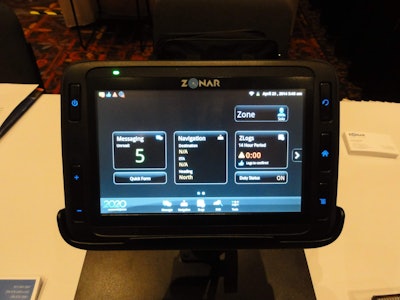 Zonar has completed an agreement with GreenRoad to offer its real-time driver feedback and driver behavior monitoring application on the Zonar 2020 mobile tablet. The integration is expected to be completed in early 2015, said Vikas Jain, chief operating officer of Zonar, at the American Trucking Associations MC&E conference on Oct. 6 in San Diego.
The Zonar 2020 tablet uses an Android operating system. With GreenRoad's Android application, Zonar customers will have ready-made driver behavior tools to help increase fuel economy, safety and fleet efficiency, he said. Features of the application tthat target driver self-improvement include:
Aggressive driving in-cab alerts
Driver scoring in five safety categories
Online accounts for self-assessment
Motivation and incentive programs
At the management level, analytic tools identify drivers at risk or in need for training, potentially hazardous areas and problematic safety trends. As part of the development project, Zonar customers can access these tools from within Zonar's web-based management portal called Ground Traffic Control.
The 2020 tablet is the first telematics platform to offer GreenRoad as an integrated application, Jain said. The company designed the 2020 platform to offer its customers "best of breed" mobile applications from third party suppliers that include Drivewyze for weigh station bypass and ALK CoPilot navigation.
The 2020 tablet is available pre-installed with Zonar's electronic vehicle inspection reporting (EVIR), Hours-of-Service (ZLogs), ALK commercial navigation and two-way messaging. Fleets can expand their use of the 2020 with third party and custom applications specific to their operation.
Zonar also announced that it recently achieved the milestone of fielding 300,000 telematics units with an implementation at Butler Machinery in Fargo, N.D. Butler Machinery is a full-service equipment dealer that operates a fleet of 450 vehicles from 17 locations in Nebraska, North Dakota and South Dakota. It uses Zonar's V3 telematics platform to monitor and track those vehicles.