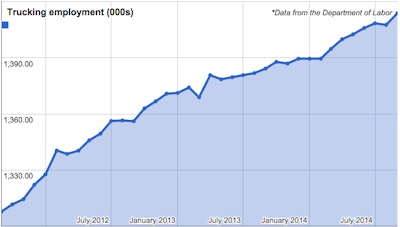 ​
Jobs in the for-hire trucking industry jumped 3,800 in September on a seasonally adjusted basis, according to the monthly employment report released Oct. 3 by the Department of Labor's Bureau of Labor Statistics.
The U.S. economy as a whole in September added 248,000 non-farm jobs, BLS reports, and the national unemployment rate fell to 5.9 percent – the first time it has been below 6 percent since July 2008. September's job growth was better than economists had expected, and eases some fears that the economic recovery had begun to stall: August saw fewer new jobs than any month this year.
For-hire trucking now has 1.4138 million payroll jobs, according to BLS, up 32,000 (2.3 percent) from last September. It's also up 179,800 jobs (14.6 percent) from March 2010′s bottom in the most recent recession.
However, the trucking employment total remains 39,600 jobs (2.7 percent) below January 2007′s peak.
Total transportation and warehousing employment grew by 1,900 jobs to 4.6446 million. Also in September, construction added 16,000 jobs while manufacturing, after seeing no growth in August, added 4,000 new jobs.
The BLS numbers for trucking reflect all payroll employment in for-hire trucking, but they don't include trucking-related jobs in other industries, such as a truck driver for a private fleet. Nor do the numbers reflect the total amount of hiring since they only reflect the number of employees paid during a specified payroll period during the month.