Beginning in December 2015, up to 1,000 drivers will have their logbooks, licenses and other credentials inspected by the Department of Transportation while moving at highway speed. The reward for a clean inspection? Keep on rolling.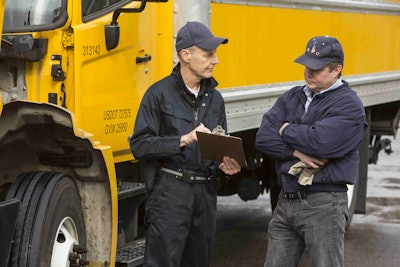 The Federal Motor Carrier Safety Administration (FMCSA) has been working to make a concept called wireless roadside inspection (WRI) reality for a number of years. The project is entering its third and final phase called a field operational test (FOT).
Innovative Software Engineering (ISE) is a company that offers telematics and custom software development services. The FMCSA recently awarded a three-year FOT project to ISE to evaluate the viability of WRI for commercial motor vehicles.
In 2010, ISE participated in the pilot phase of the WRI program where it was the first firm to successfully demonstrate the viability of WRI technology during an FMCSA-sponsored Technology Showcase event in East Tennessee.
The current FOT project is being managed by Oak Ridge National Laboratory (ORNL), a multi-program science and technology laboratory in Oak Ridge, Tenn.
At this point, 20 inspection sites in five southeastern states are onboard for stage three of the WRI project. The locations are in Mississippi, Tennessee, Georgia, Kentucky and North Carolina. The number of locations are expected to grow before the FOT officially begins in December, 2015.
ISE is working to create an interface with a new government WRI system. The interface will obtain the location of inspection sites in the form of virtual "geofences" that define the approach to participating roadside inspection stations. When a vehicle crosses the geofence, ISE software will transmit the current logbook status, license and vehicle credentials to the WRI system.
Law enforcement personnel can update the geofences daily to create new inspection sites. They can access the government software through a website using their desktops or laptops. As trucks approach inspection points, the website will notify the officer if the vehicle and driver are in compliance or need to be pulled in for review.
If everything checks out, the driver will be given an instant "green light" notification in the cab to bypass the inspection point, or vice versa, a red light indicating he must pull over.
Owner operators and fleets interested in participating in the FOT program will need to purchase the ISE eFleetSuite telematics system which includes electronic driver logs and driver vehicle inspection reporting (DVIR) applications.
The hardware device costs $625 with a monthly charge of $22 for the application and wireless fees. During the one-year WRI pilot project, starting in December, 2015, the $22 monthly fee will be waived. Besides saving on wireless costs for one year, another incentive is the operational efficiency of bypassing inspection stations.
Fleets who participate will also have a voice in influencing the direction of the architecture and system used for WRI.
"This is a research project that will eventually inform policy," says Hass Machlab, CEO of ISE.
Any fleets and owner operators that are interested in participating in the WRI program should contact ISE at 888-316-3533 or info@isefleetservices.com