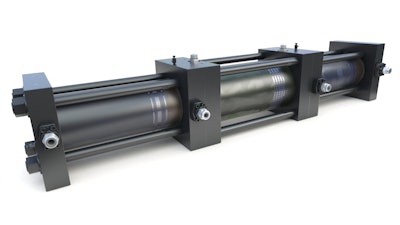 At a press conference at the 2014 American Trucking Association's Management Conference & Exhibition in San Diego, Trillium CNG introduced its new 7-inch Hydraulic Intensifier Compressor (HY-C) technology, which the company says can achieve a theoretical fill rate of 20 gas-gallon-equivalents per minute.
"The new 7-inch HY-C not only preserves valuable driver time, which is important to fleet operators, but it redefines CNG refueling industry standards," said Ted Calvin, vice president of manufacturing for Trillium CNG.
The 7-inch HY-C, which was developed from designs of its existing 5-inch compressor that has been in service for 15 years, doubles the fill rate of its predecessor and uses a low-horsepower solution compared to competitive systems, according to the company.
"The big application that we see is today lots of our stations have multiple dispensers and multiple hoses and you could be filling several vehicles simultaneously," said Calvin. "With this technology you could fill two vehicles at 10 GGE per minute. We see this as opening up multi-lane refueling with good customer experience."