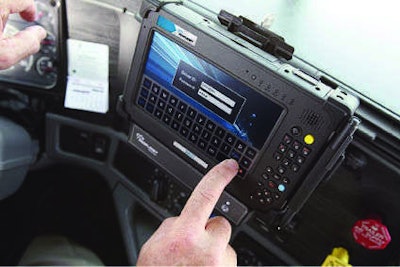 PeopleNet, a Trimble company and provider of fleet mobility technology, announced an upgrade to its in-cab scanning capabilities in partnership with Pegasus TransTech. When using scanning services remotely, drivers can now scan and transmit critical transportation documents using a Wi-Fi network to reduce cost.
"We are excited to give drivers a way to instantly and inexpensively scan and send important information such as bills of lading and signed delivery receipts right from the cab," said Tom Dorazio, director of product management at PeopleNet. "The Wi-Fi enabled in-cab scanning feature is most attractive to drivers who are traveling long haul routes and aren't going back to a terminal each night. By empowering drivers to transmit information in this manner, it eliminates the need to find a location offering scanning services, which can take a driver off route, or choosing to mail documents to the back office, which adds extra time."
"Through our partnership with PeopleNet, we are eager to help our mutual customers transmit important information in a way that is most convenient for the driver and the back office," said Frank Adelman, President and CEO at Pegasus TransTech. "This feature offers two settings that allow drivers to either only send the document when attached to a Wi-Fi network, or to first try to send the information wirelessly, but if Wi-Fi is unavailable, then send it over the cellular network."
The new Wi-Fi-enabled in-cab scanning feature was announced at the annual ATA MC User Conference being held in San Diego, Calif from Oct. 4 – 6, 2014.