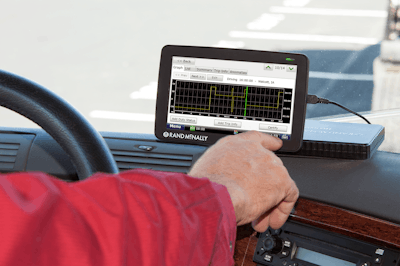 During ATA's Management Conference and Exhibition, Rand McNally announced the integration of Pegasus TransTech's Transflo document management and integrated delivery system with Rand McNally's mobile fleet management devices.
Initially available as part of the TPC 7600 with an in-cab scanning option, Transflo will soon be an option on the full line of Rand McNally mobile fleet management devices – including the TND™ 760 and HD 100.
"The addition of TRANSFLO capabilities helps our fleet customers better manage document flow, increase accuracy, and process billing more quickly," said Jim Rodi, senior vice president, mobile communications group, Rand McNally. "Invoicing customers quickly and accurately results in improved cash flow and ROI."
A scan from Rand McNally's system flows into the Transflo software for processing, storage and retrieval of documents such as proof of delivery, bills of lading, packing lists, receipts, employment applications, accident reports and more. Receipts for scanned information can be set to trigger additional actions on the part of dispatch, billing, and operations. Additionally, any document can be accessed by multiple areas of the company for reference or action.