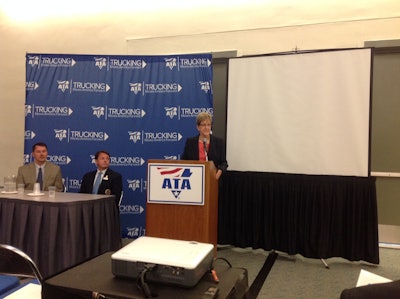 During the American Trucking Associations' annual MC&E conference, HELP Inc., a non-profit public/private partnership that provides PrePass weigh station bypass and other truck safety services, announced hitting another milestone. As of Oct. 5, 485,000 trucks have enrolled in the PrePass program which represents growth of 10,000-plus trucks since July, 2014.
"A lot of companies sign up for the time savings," said Karen Rasmussen, HELP Inc.'s president and CEO. James Burg Trucking has been using the PrePass service for more than nine years. Jim Burg, president of the Warren, Mich.-based flatbed carrier, has been on HELP Inc.'s board of directors for five years.
"PrePass is one way to bring costs down and revenue up," he said during HELP Inc.'s press conference at the ATA event. "We need every minute we can get."
Rasmussen also announced that PrePass will be deployed at several new sites over the next few months. The sites were selected on the basis of increasing truck safety in key freight corridors. The sites will be in Delaware, Iowa, Michigan, Wisconsin and Wyoming. She mentioned that Interstate 94 in Wyoming has seen a "huge boom" in truck traffic tied to oil and gas production, which has created a need for new weigh-in-motion scales and inspection facilities with bypass for qualified carriers. PrePass sites in Louisiana, Mississippi and Oklahoma are going through final stages of installation.
The PrePass Plus program includes bypass and electronic toll payment and toll accounts management.