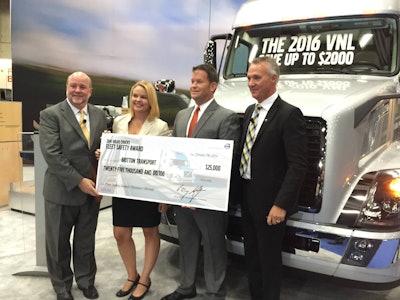 Prescott, Ontario-based fleet Kriska Holdings Limited and Grand Forks, N.D.-based Britton Transport were honored by Volvo Trucks and Michelin America Truck Tires with the 2014 Volvo Trucks Safety Award at the 2014 American Trucking Associations Management Conference & Exhibition in San Diego. Both companies were selected based on U.S. Department of Transportation recordable accident frequency rates and their safety and accident prevention training programs.
Kriska Holdings, which won in the more-than 20-million-mile category, operates a fleet of 340 trucks specializing in trans-border service. In 2013, the company had an accident frequency rate of just 0.25, while logging more than 32 million miles in operation.
Britton Transport won in the less-than 20-million-mile category. Today, the company hauls machinery, building materials, general commodities as well as refrigerated foods. The 97-truck fleet had an accident frequency of 0.32 in 9.2 million miles of operation in 2013.
"By investing in innovative training programs, Kriska Holdings Limited and Britton Transport, Inc. achieved tremendous safety performance during the past year," said Gӧran Nyberg, president of Volvo Trucks North American Sales & Marketing. "These results show that safety does not happen by chance, it happens by choice."
"We are thrilled to be the recipient of the 2014 Volvo Trucks Safety Award," said Jim Stockeland, president of Britton Transport. "This award does not speak to one person's efforts, or even a department's efforts, but to a continual effort on behalf of the entire company to purposefully protect others."