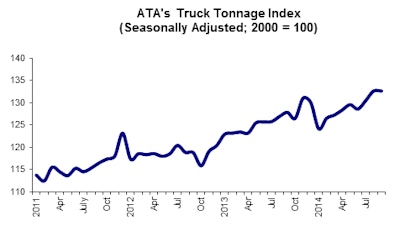 Truck tonnage was unchanged in September from August and remains at a record high, according to the American Trucking Associations' monthly seasonally adjusted For-Hire Truck Tonnage Index, released this week.
Compared to the same month last year, the index rose 3.7 percent, down slightly from August's 4.5 percent year-over-year gain.
The not seasonally adjusted index — a representation of the change in tonnage actually hauled — rose 1.7 percent from August, however.
ATA Chief Economist Bob Costello says based on the mix of other economic indicators in the month, like falling retail sales and increasing factory output, no change in truck tonnage is unsurprising.
2014's third quarter average was also the highest on record, Costello said, following a second quarter jump of 2.4 percent (from the first quarter) and a 4 percent surge in the third quarter from the second quarter.