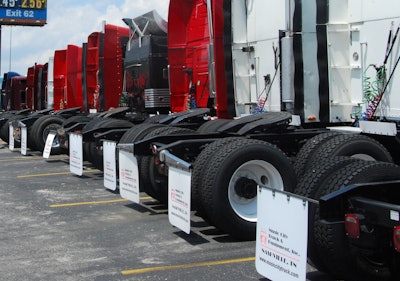 Preliminary data of Class 8 truck orders for October show a record number of trucks ordered, according to multiple data firms.
FTR pegs the number at 45,795 units, "a near record number," it says. ACT Research puts October's orders at 46,200, which it says is the second-highest monthly order total on record.
That number "represent(s) the convergence of a number of trends that continue to drive healthy order activity," says ACT's President and Senior Analyst Kenny Vieth. "Those trends include pent-up demand amongst small and medium fleets, superior new truck fuel economy, improved economic activity in key freight sectors, and most importantly, rising freight rates and fleet profitability."
FTR reports the month's Class 8 orders were up 87 percent from September and 76 percent from the same month last year.
The last six months annualize to 354,000 units, FTR says.
"The huge amount of orders was driven by several very large fleets placing orders to be built throughout 2015," says FTR's Don Ake, VP of commercial vehicles. "This is the result of the industry operating near full capacity and fleets having confidence that freight growth will remain strong for the entire year in 2015. They want to lock in their orders now to guarantee future deliveries. We will be evaluating the second half of the 2015 forecast in light of the confidence reflected in this large order volume."