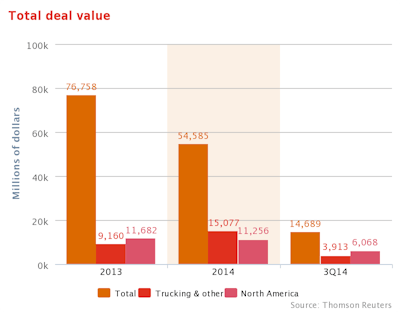 The Monday roundup of the latest financial data and analysis includes updates on deal-making activity, linehaul rates, intermodal volume and NAFTA trade.
Trucking and logistics deals were on the rise in the third quarter, according to PricewaterhouseCoopers and its quarterly analysis of mergers and acquisitions. (Slide 1)
"The North American trucking M&A market is particularly robust," the report notes.
These smaller deals drove the increase in M&A activity for the sector, which also includes global infrastructure, air, and shipping industries.
"Acquiring carriers are seeking to expand truckload businesses, enhance logistics offerings, invest in technology and add new capacity as freight demand improves. In addition, several deals have helped companies improve their geographical reach within the United States and across North America," PwC says. "However, trucking and logistics companies tend to be smaller than many other sector constituents, and deal multiples are also often lower."
The Cass Truckload Linehaul Index, which measures changes in per-mile truckload linehaul rates, rose 6.7 percent year over year in September and was 2.4 percent higher than August. (Slide 2)
The same drivers appear to be in force this month, with demand improving and capacity exiting the marketplace at a rapid pace, as this year's contract rate increases are starting to take effect, according to the report.
"We are not surprised to see our index continue to post mid-to-high single digit gains, and we expect this to continue through 4Q'14," says Avondale Partners, the securities analyst firm that works with Cass on the report. "We continue to expect contract TL pricing to rise 4-6 percent in 2014, with the higher end looking increasingly likely."
For the Cass Intermodal Price Index, total intermodal costs rose 2.7 percent year over year in September. At the same time, consistent with seasonal trends, intermodal costs in September were slightly below the August level. (Slide 3)
"We now expect intermodal rates to increase at a low single digit pace in 2014 as a tighter truckload environment offers an umbrella for higher pricing," Avondale says. "We would note that with diesel prices easing in recent weeks that our 'all-in' index could decelerate in the near term, despite indications that base rates are improving."
Most recently, the Association of American Railroads reports increased U.S. rail traffic for the week ending Oct. 18, with 297,130 total carloads, up 2.7 percent compared with the same week last year. Total U.S. weekly intermodal volume is 272,554 units, up 3 percent. (Slide 4)
For the first 42 weeks of the year, intermodal volume is up 5.4 percent from 2013.
U.S.-NAFTA freight totaled $100.6 billion in August 2014 as all five major transportation modes – air, vessel, pipeline, rail, and trucks – carried more of the freight than in August 2013, according to the TransBorder Freight Data released by the U.S. Department of Transportation's Bureau of Transportation Statistics.
August was the sixth consecutive month with U.S.-NAFTA freight flows exceeding $100 billion. (Slide 5)
Of the $4.2 billion increase in the value of US-NAFTA freight from the year before, truck freight contributed the most, $1.9 billion, followed by rail, $514 million. The trucking increase was due almost entirely to growth in truck freight with Mexico as U.S.-Canada truck trade remained almost unchanged, the report notes.
Trucks carry three-fifths of U.S.-NAFTA freight and are the most heavily utilized mode for moving goods to and from both trading partners. In Augsut, trucks carried 59.6 percent of the freight, accounting for $31.2 billion of exports and $28.8 billion of imports.