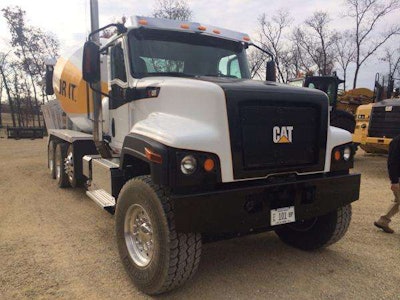 Caterpillar may be out of the engine game for Class 8 trucks, but they're not out of trucking. In fact, they're growing their presence once again.
CCJ Equipment Editor Jack Roberts is at Caterpillar headquarters this week in Peoria, Ill., where the equipment maker unveiled a new vocational truck, designed for a bevy of applications.
This builds on Cat's 2011 unveiling of its CT660, also designed for off-road applications.
Here's Roberts' coverage of the event, including his live tweets from the truck's unveiling and some quick videos of the truck in action:
CT681 in Cat Yellow pic.twitter.com/MxSFzqVuwG

— Jack Roberts (@JackRobertsCCJ) October 30, 2014
One more CT681 pic for ya pic.twitter.com/BQ4mxdS4KG

— Jack Roberts (@JackRobertsCCJ) October 30, 2014
Here it is: The Cat CT 681 pic.twitter.com/0Ke1eoPpZA

— Jack Roberts (@JackRobertsCCJ) October 30, 2014
Other CT680 details: Will feature "unique" styling, available as tractor or truck, will feature set forward axle.

— Jack Roberts (@JackRobertsCCJ) October 30, 2014
Schmitz: Next Cat truck model to launch 2015 will be CT680. It is undergoing extensive testing now. Will have 124 inch BBC

— Jack Roberts (@JackRobertsCCJ) October 30, 2014
Schmitz: Over 50 percent of all new Cat trucks are going out the factory door with automated manual transmissions.

— Jack Roberts (@JackRobertsCCJ) October 30, 2014
Here's a Cat Vocational Truck Engine Performance Data Chart for you to chew on. pic.twitter.com/St2fvaRFaM

— Jack Roberts (@JackRobertsCCJ) October 30, 2014
Schmitz: Cat engines now feature SCR emissions control with DEF.

— Jack Roberts (@JackRobertsCCJ) October 30, 2014
Cat CT681 same cab design as CT660 — wide cab design w/ plenty of storage, leather-wrapped, tilt/telescope steering wheel

— Jack Roberts (@JackRobertsCCJ) October 30, 2014
Dave Schmitz, global on-highway truck product manager with Cat speaking on new CT681 model. pic.twitter.com/KocHfDBjTg

— Jack Roberts (@JackRobertsCCJ) October 30, 2014
Sneak Peek Pic of the new truck. Slightly more aggressive styling than CT660 pic.twitter.com/dJy5v8YEqL

— Jack Roberts (@JackRobertsCCJ) October 30, 2014