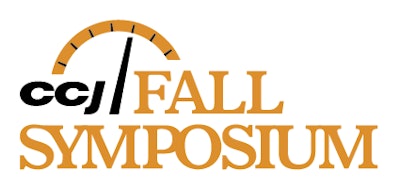 CCJ's annual Fall Symposium starts today, and sessions will be held during the next two days on minimizing roadside inspection violations, connecting with drivers via modern technology, working through an industry-wide technician shortage and improving driver productivity, along with 2015 outlooks for regulations and the economy.
CCJ editors will be covering each session, both live on Twitter and on CCJdigital.com.
CCJ's daily newsletters Friday and Monday will be filled with coverage of the event and its sessions. Click here to sign up to receive the CCJ Daily Report.
Here are the handles to follow on Twitter to keep up with the show live:
@JeffCrisseyCCJ, Jeff Crissey, editor of CCJ
@JackRobertsCCJ, CCJ equipment editor
@KevinJonesCCJ, CCJ senior editor
@AaronHuffCCJ, CCJ technology editor

Also, find the #CCJSymp to follow all tweets and Facebook posts from the show or to join the conversation.
**
We'll also have a live blog going from the show. Stay tuned to CCJ and the above Twitter handles.