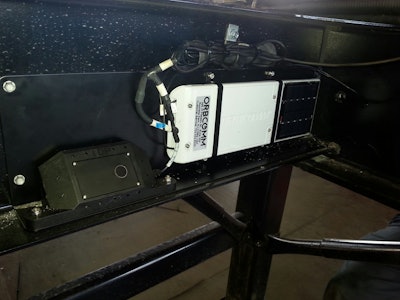 Orbcomm, a global provider of machine-to-machine (M2M) systems, announced that it has entered into a definitive agreement to acquire SkyWave Mobile Communications, the largest M2M service provider on the Inmarsat global L-band satellite network, for $130 million.
Based in Ottawa, Canada, SkyWave has more than 250,000 subscriber units, 400 channel partners, an estimated annualized $60 million in revenues and over $12 million in Adjusted EBITDA.
"We expect the combination of SkyWave and Orbcomm to deliver significant value for both our shareholders and customers," said Marc Eisenberg, Orbcomm's chief executive officer. "By combining our complementary products, distribution channels and broad geographic footprints – with support from Inmarsat – we are adding significant scale to our business."
"We are excited to enter the next phase of collaboration with Orbcomm," said Rupert Pearce, Inmarsat's chief executive officer. "Our two companies are well positioned to exploit the growing opportunity for satellite to enable the 'Internet of Things.'"
"Orbcomm shares SkyWave's commitment to customers and passion for innovation, making it the perfect partner for our customers and employees," said Pui-Ling Chan, SkyWave's chief executive officer.
With the addition of SkyWave, Orbcomm says it will have one of the largest combined engineering teams in the M2M industry and will gain significant economies of scale in operations and manufacturing. SkyWave's distribution channels in South America, Asia and the Middle East, along with Inmarsat's support, provide Orbcomm with broader global distribution.
Orbcomm will acquire SkyWave on a cash-free debt-free basis.