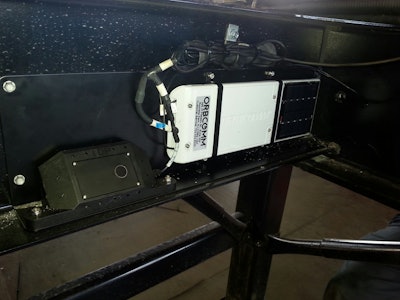 Orbcomm has made a number of big investments in the past few years. It acquired two of the largest providers of cold-chain trailer tracking systems, StarTrak and Par Logistics, and has developed new hardware capable of tracking any type of asset. More recently it launched a next-generation OG2 network of satellites.
The primary reason for making these investments is to give fleets a common platform to connect to all of their assets across diversified lines of business – flatbed, reefer, intermodal, dry van, etc.
During the American Trucking Associations' annual MC&E conference, held Oct. 5-8 in San Diego, Orbcomm announced a new product for its expanding machine-to-machine (M2M) communications platform, the GT 1100 Chassis Tracking Solution (CTS).
The GT 1100-CTS has been designed and engineered specifically to facilitate chassis management for owners and operators with any size fleet, the company says. The design pairs Orbcomm's solar-powered GT 1100 tracking and monitoring device with its PS 100 proximity sensor and custom mounting bracket.
The GT 1100-CTS provides chassis location with load status (container mounted or unmounted) information to help fleets increase asset utilization through faster equipment turn times and more efficiency through accurate billing and enhanced lane and yard planning. The device uses a cellular modem with the option of satellite.
Orbcomm says the ruggedized GT 1100 and PS 100 can be easily installed on all chassis types. The hardware has a low profile design to facilitate covert mounting. Both the device and the proximity sensor are protected from contact with the container during chassis loading.
In addition, the GT 1100-CTS connects to both the tractor's power source as well as the device's solar rechargeable battery for uninterrupted connectivity. The chassis tracking system includes CargoWatch, a web application for managing devices and receiving alerts on chassis location, geofence entry and exit, status change events (bare or mounted) and historical reporting.