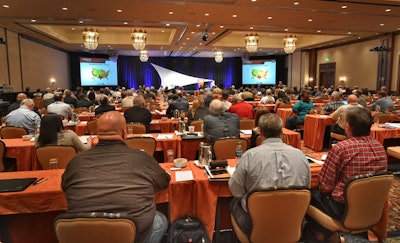 Commercial Carrier Journal put the wraps on its final symposium event of the year last week. More than 200 attendees were on hand at the 2014 CCJ Fall Symposium in Scottsdale, Ariz., to learn about key issues impacting the trucking industry. You weren't there? That's OK- we've got you covered. Check out this collection of articles to see what you missed.
Minimizing Violations at Roadside Inspections
While many fleets look at the roadside inspections as an unwanted hassle, Steve Keppler, executive director of the Commercial Vehicle Safety Alliance, defends their use, noting that roadsides works to ensure consistent compliance with both state and federal regulations. He also said a fleet's safety record has a lot to do with its attitude and culture. Read more…
Duane Long, president of Raleigh, N.C.-based Longistics and 2014-2015 chairman of the American Trucking Associations, gives his first speech since taking the reins at ATA and talks about the importance of continued participation in the Trucking Moves America Forward movement and outlines his goals for the next year. Read more…
Connecting with Today's Drivers through Technology
John Elliott, chief executive officer at Load One, discusses the innovative ways his companies chooses to stay connected with its drivers. Where Elliott puts his emphasis on driver recruiting may surprise you. Read more…
Both in his role at Truck Centers of Arkansas, and through his work with the Technology and Maintenance Council, Ken Calhoun, vice president of customer relations for Truck Centers of Arkansas, has emerged as a leading voice calling for fundamental change in how the trucking industry recruits, trains, promotes and retains technicians. Read more…
Improving Driver Productivity and Efficiency
There is no silver bullet in the trucking industry when it comes to recruiting and retaining drivers. With many fleets maxing out on those fronts, getting the most out of the assets you have is the name of the game. From shipper relations to in-house strategies, panelists from Roehl, Knight Transportation and Marten Transport share their thoughts on the best ways to keep trucks moving to maximize efficiency. Read more…
What's Ahead on the Regulatory Front?
In an unprecedented era of regulations, what can the trucking industry expect to cope with next? Annette Sandberg, former administrator of the Federal Motor Carrier Safety Administration and owner of TransSafe Consulting, provides an update on what proposals various federal agencies are working on and their potential impacts for fleets. Read more…
2015 Economic Outlook for Trucking
All economic indicators point to a bright future for the trucking industry, but how long will the good times last? Jim Meil, principal of industry analysis for ACT Research, outlines the tailwinds as well as external factors that could hinder the industry's growth in the near future. Read more…