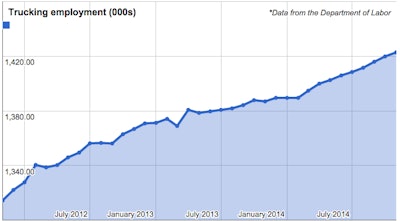 ​
The for-hire trucking industry added 3,000 jobs in December on a seasonally adjusted basis, according to the Department of Labor's monthly employment report, released Dec. 5.
The DOL also upwardly revised the number for October, adding 300 trucking jobs.
The U.S. economy as a whole added 321,000 non-farm jobs in the month, according to the report, exceeding economists' expectations and holding the country's unemployment rate at 5.8 percent — maintaining the lowest level in more than 6 years.
For-hire trucking employment now totals 1.4228 million, according to BLS, up 35,000 (2.5 percent) from November 2013. It's also up 188,800 jobs (15.3 percent) from the bottom in March 2010.
Trucking employment remains 30,600 jobs (2.1 percent) below January 2007's peak.
Total transportation and warehousing employment grew by 16,700 jobs in November, according to BLS, to a total of 4.6846 million.
Overall, job gains were widespread, led by growth in professional and business services (up 86,000), retail trade (up 50,200), health care (up  28,900) and manufacturing (up 28,000).