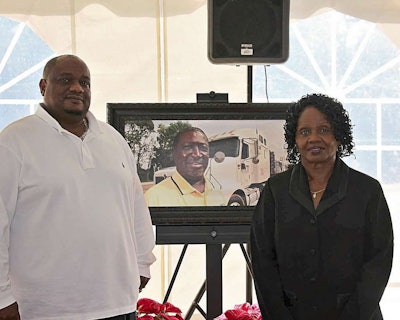 "It couldn't have been much more emotional," said Rendy Taylor, president of Tuscaloosa, Ala.,-based WTI Transport. "I was so close to Willie that I just couldn't do it. I had to have Steve Rumsey, one of our founders, help make the dedication."
Taylor was talking about the unveiling and ribbon cutting of the Willie Barnes Driver's Suite during the celebration of WTI's 25th anniversary, which took place Dec. 1. "Willie was the first driver hired at WTI and he was our anchor. He was with us from day one, he loved driving a truck, and everyone looked up to him – he meant so much to us. He lost his life to cancer a year ago, but we decided that he would never leave us. We wanted to honor him by naming our new driver's suite after him."
Amongst more than 90 people attending the anniversary celebration were the mayor of Tuscaloosa, Barnes' wife, Barbara, and their son, Anthony Prewitt, who also serves as one of WTI's fleet managers. "There were more than a few tears shed during the dedication," said Taylor. "We honored Willie, and then we toasted all our drivers who have helped us have 25 great years. We're now onto the next 25 and we're as passionate and dedicated as we were when the company began in November of 1989."
With close to 400 drivers – a 40/60 split between company and owner operators – piloting nearly 700 trailers, WTI is one of Tuscaloosa's largest employers, and part of The Boyd Companies, which is in the Daseke family of open-deck carriers. Daseke Inc., ranks as the second largest open-deck carrier in North America.
According to Taylor, WTI's growth through the years can be attributed to customer service, a dedicated group of drivers, "and, our culture where we foster a true family atmosphere," he said. "The company was started by Steve Rumsey and Miller Welborn, childhood friends, who got their taste of the trucking industry by working together at the trucking company of Rumsey's father-in-law. They decided to start their own company when they were in their mid-20s with a fleet of 12 trucks and a big dream."
In 1997, The Boyd Companies acquired WTI. According to Chris Cooper, president of The Boyd Companies, "we were asset heavy and WTI was asset light with quite a few owner operators hauling their loads. We saw true synergy between the companies, which would allow each to grow. And, both have — WTI doubled in size since they became a company under the Boyd umbrella.
"The belief of both companies has always been that drivers are the fiber of our existence," continued Cooper. "It's a philosophy lived and breathed each day, and we were thrilled that WTI opened its new Driver's Suite in the honor of the company's first driver – Willie Barnes."
"Drivers are not only the fiber, but a catalyst for our growth," added Taylor. "We've hired the right people and have offered programs, such as our lease/purchase option for becoming an owner operator, that have become very popular. It's one reason why our turnover rate is about half the industry average."
According to Taylor, drivers are thrilled with the new Willie Barnes Driver's Suite, which features a quiet room with recliners, a room with two big-screen TVs, a lounge area with food and drinks, an exercise room, and a laundry facility. "It's a tremendous facility for our drivers, who come in on breaks or when they have to have maintenance done on their trucks," said Taylor. "We know they have one of the toughest jobs in the trucking industry and we want to take care of them – the suite makes life a bit more comfortable when they come to Tuscaloosa."
According to Don Daseke, president and CEO of Daseke Inc., the anniversary celebration, and the company's dedication and appreciation of drivers, reinforced his decision to bring The Boyd Companies and WTI into the Daseke fold through a merger with The Boyd Companies in 2013. "The Boyd Companies and WTI truly epitomize our philosophy that people make the difference – we've always said we invest in people, not companies," said Daseke. "WTI has a beautiful facility, with late-model equipment and is extremely well-managed under the guidance of Rendy. But he can't do it without the support of his staff and drivers – and they're all committed to one goal, and that is to be the premier carrier in the region."
WTI is well on the way to that distinction, if not there already. The company was recently recognized in the American Trucking Associations' National Truck Safety Contest. It won first place in the 'over 10 million mile flatbed/line-haul' division, beating out more than 200 companies that entered the contest. With an accident rate of 0.31 per million miles, WTI won the award by a wide margin — the second place company had a rate of 0.44. The national average for truck accidents in the flatbed segment is 0.54 per million miles.
"We couldn't be more proud of our drivers who made that happen," said Taylor. "Safety has always been a priority here, along with our on-time delivery rate, which is pegged at 98.6 percent. Our people have done a phenomenal job and we're only getting better. Since joining the Daseke family, we've had mentorship and a partnership with our sister companies. That's allowed us to grow and become better as we glean best practices from some of the best transportation minds in the industry."