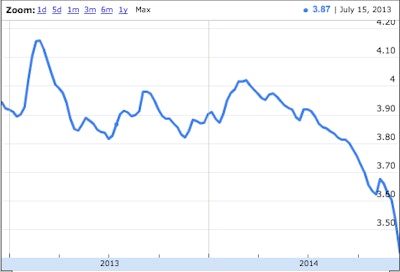 The national average price for a gallon of on-highway diesel hit a four-year low in the week ended Dec. 22, 2014, falling 13.8 cents to $3.281, according to the
Department of Energy's weekly fuel report
.
The 13.8-cent was also the biggest week-to-week decline since 2008.
The price in the week ended Dec. 22 was just shy of 60 cents lower than the same week in 2013, according to the DOE.
ProMiles Fuel Surcharge Index reported a similar drop — a 14.8-cent drop and an average price of $3.46 a gallon.
All regions in the U.S. also saw big price declines, led by a 17.9-cent drop int he Midwest and a 16.6-cent drop in the Rocky Mountain region.
The New England region had the country's most expensive diesel, $3.425, followed by California, $3.415.
The Gulf Coast had the cheapest diesel, $3.175, followed by the Lower Atlantic's $3.223 and the West Coast less California's $3.228.