The stress on capacity – caused by a short truck supply and increased freight demand — eased some in recent weeks, according to the latest roundup of industry indicators.
But any uptick in freight could push capacity stress back into a capacity crunch, according to FTR: "While the capacity conditions have moved out of the critical danger zone of a few months ago, the trucking segment remains highly vulnerable to seasonal shortages," FTR notes in its recent Shippers Conditions Index report.
Likewise, Internet Truckstop in its most recent Trans4Cast noted load availability dropped 10 percent from Nov. 11 to Dec. 12, while truck availability increased 7 percent.
Rates seemed to have followed suit, as van, reefer and flatbed rates all fell slightly in the week ended Dec. 13, according to DAT's Trendlines.
Here are some key indicators, in this Christmas edition of Money Monday:
Tonnage shoots up in November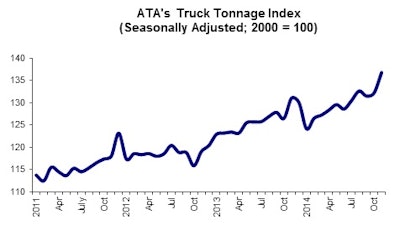 The American Trucking Associations issued its monthly tonnage report last week, revealing that tonnage jumped 3.5 percent in November, according to its For-Hire Truck Tonnage Index.
Tonnage was up 4.4 percent from the same month last year and 3.3 percent year-to-date.
ATA Chief Economist Bob Costello said that while an upswing was expected, the extent of the surge in tonnage "did surprise to the upside."
"Clearly the economy is doing well with tonnage on such a robust trendline," Costello said.
Conditions for shippers improve, but likely short-lived
FTR's monthly Shippers Conditions Index showed that, despite decreasing fuel prices and a temporary ease in truck utilization, conditions for shippers are likely to deteriorate in the coming months.
The temporary ease in capacity constraints, however, did improve conditions for shippers in October, FTR notes. "The cheer from shippers may be short-lived," however, says FTR's Jonathan Starks, "As the economy looks likely to accelerate in 2015, it could cause capacity to tighten once more, leading to further acceleration in base freight rates."
Rates continue to climb, FTR notes, as costs for carriers increase and capacity constraints make finding trucks to carry the increase in freight more difficult.
Weekly rates drop as freight slips, truck availability grows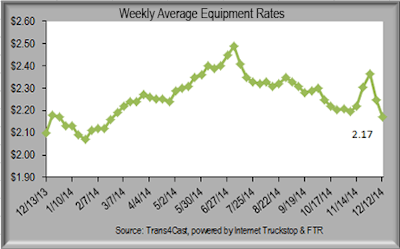 Internet Truckstop's Market Demand Index fell 16 percent in the week ended Dec. 12 from the prior week, stemming from a 10 percent drop in load availability and a 7 percent increase in truck availability.
Thus, rates fell 4 percent overall, ITS reports. Flatbed rates fell 3 cents to $2.11, while reefer rates and van rates fell 12 cents each to $2.37 and $2.12, respectively.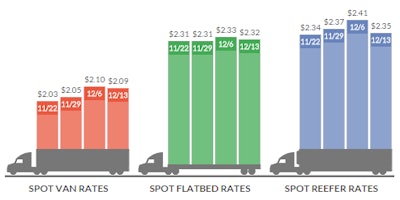 DAT also reported a drop in rates caused by easing of pressure on capacity. In the week ended Dec. 13, reefer rates fell 6 cents from the prior week, while van and flatbed rates fell 1 percent each.