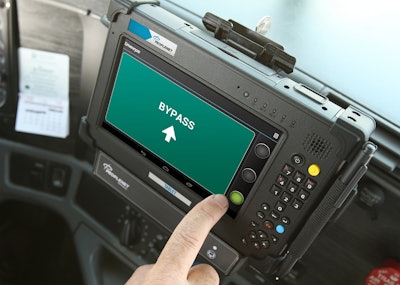 Drivewyze announced that Kayne Partners has invested in Drivewyze and its sister company, Intelligent Imaging Systems, to support the growth of its mobile-based weigh station bypass service for the trucking industry. Kayne Partners is the growth private equity group of Kayne Anderson Capital Advisors, L.P., an approximately $29 billion alternative investment firm.
Drivewyze is a cloud-based software designed to help commercial trucking companies save time and money by allowing their trucks to bypass weigh stations based on the strength of their safety records. Leveraging cellular networks, the Internet, and GPS, Drivewyze provides weigh station bypass services at 411 sites in 30 states (and growing), via smartphones, tablets and specialized in-cab fleet telematics devices.
In the last 18 months, the number of locations in the Drivewyze network have grown by over 80 percent, said Brian Heath, president and CEO of Drivewyze.
"Our Commercial Mobile Radio Service (CMRS) transponder technology is changing how trucking companies and state commercial vehicle inspectors view weigh station bypass. With our partners at PeopleNet, Rand McNally and Zonar offering Drivewyze on their in-cab devices, fleets are finding that Drivewyze can save them thousands of hours of lost driver productivity and significantly reduce their fuel costs."
"Kayne Partners targets industries which are typically underserved from a technological perspective, and the commercial vehicle and trucking industries currently rely on outdated tracking and monitoring methods," said Doyl Burkett, Partner, Kayne Partners. "The IIS and Drivewyze business segments utilize existing third-party platforms to increase operating inefficiencies in the trucking and fleet management markets. This closely aligns with Kayne Partners' mandate to find companies using innovative processes in large, established industries."
"Kayne Partners has a strong track record of identifying companies in high growth industries and backed by competent and strategic management teams, and we are excited about our partnership with the IIS and Drivewyze management team," said Nishita Pawar, Managing Director, Kayne Partners.