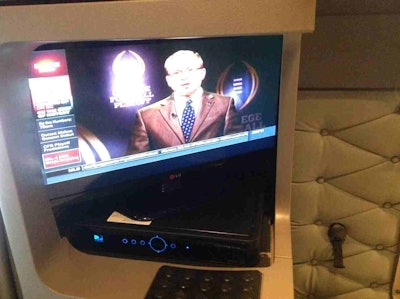 EpicVue, a company that provides an in-cab satellite TV package for trucking fleets, announced that it will be the exclusive sponsor of the Truckload Carriers Association (TCA) Highway Angel program. The recognition program awards truck drivers for "good deeds" ranging from simple acts of kindness to heroic life-saving efforts.
"EpicVue was created to help with the long-haul truck driver's quality of life, and the rapid and positive response from the industry has inspired us to give back," said Lance Platt, chief executive officer. "We are proud to associate with an organization that recognizes the good deeds commercial drivers do, and we look forward to helping this great cause."
Highway Angel aims to improve the public's image of truck driving as a profession by collecting and promoting positive stories about truck drivers who help fellow motorists while out on the road. Whether they fix a simple flat tire or yank someone from a burning vehicle, Highway Angels are presented with a truck decal, lapel pin, clothing patch, and personalized certificate of appreciation. The drivers' companies also receive a certificate of recognition that they can display in their terminals or offices. Select Angel stories are then disseminated to the mass media, industry trade press, and/or social media.
At the TCA annual convention, scheduled for March 8-11, 2015, at the Gaylord Palms in Kissimmee, Florida, EpicVue and TCA will present a newly created award to the Highway Angel who best embodied the spirit of the program for the year 2014. In addition to a trophy and recognition, the recipient will receive a complimentary EpicVue satellite TV package that includes a 24-inch flat screen TV, a DVR, and a one-year subscription to over 100 channels of DIRECTV programming, including premium channels such as HBO, Cinemax, Showtime, and the NFL Sunday Ticket.
"By choosing to sponsor our program, EpicVue is demonstrating its commitment to the trucking industry and improving the image of the professional truck driver. Thus, we share the same ideals," said Deborah Sparks, TCA's vice president of development. "We welcome them as our sponsor and look forward to successful partnership."