To manage compliance, fleet managers may want more than an ELD application that captures duty status information. A unique feature of some products is the inclusion of robust compliance management tools.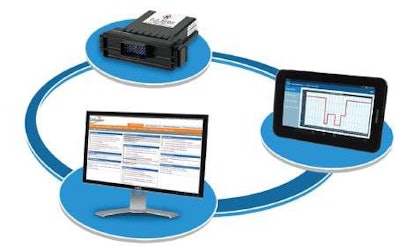 J.J. Keller & Associates has an E-Log application that is tailored for fleets wanting a more comprehensive approach. Its E-Log application is sold with a recording device that connects to the vehicle's diagnostics port. This device communicates with an app called Keller Mobile that runs on the iPad, iPhone, Android or Keller's Compliance tablet.
The Keller Mobile app sends data to the cloud-based Encompass portal that fleets use to manage log data, including data that managers enter manually from drivers who may still use paper logs, says Randy Thome, vice president of technology services for J.J. Keller.
The portal has several different subscription levels, or editions. Upgrading to the Compliance edition gives fleets a paperless system to use for managing driver hiring, qualification files, training, and other safety and compliance processes. The Premium edition includes telematics information for driver performance — fuel use, speed, braking — and GPS location.
The additional compliance management tools included in some ELD offerings can help fleets protect themselves and their data in the event of a DOT audit. Telogis integrates data from various sources into its online management system for driver logs, Frey says.
By integrating data from third-party fuel cards, time/attendance and proof-of-delivery applications, Telogis continuously audits the data in its electronic logging application to identify discrepancies by matching duty status to other known driver activities, he says.
Click on another criteria to continue:
The new ELD rule will put greater responsibility on drivers to certify the accuracy of their logs. What products will best fulfill the need to capture duty-status information from drivers, inside and outside the vehicle?
Electronic logs may not deliver enough savings to justify the cost of hardware and software. What other options should you consider to increase the return on investment?
A distinct feature offered by some platforms is to have electronic logging functions embedded within the driver workflow. This gives fleets visibility to more than duty-status information.
When choosing an ELD, it is important to consider future technology you will want to include in the vehicle to improve safety and compliance.