All companies that supply electronic logging software have experience updating their products to comply with rule changes. A major rewrite of the hours-of-service rules in July, 2013, was followed by the suspension of a portion of that rule, the 34-hour reset provision, on Dec. 16, 2014.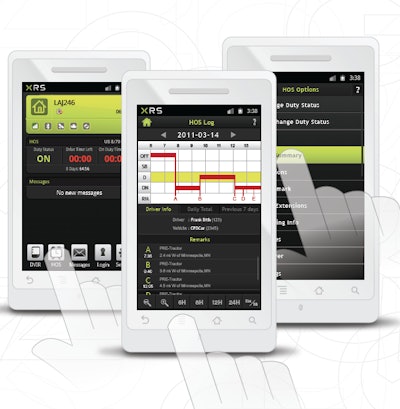 The next changes will be more technical in nature. As part of the new ELD rule, devices will have to transmit duty status information outside the truck to an application that will be developed for law enforcement to verify compliance.
The FMCSA has not yet specified what data transfer method will be used, says Elise Chianelli, senior product manager of safety and compliance for PeopleNet. Most likely, ELD devices will be able to use cellular or satellite connectivity to transmit a packet of duty status information to the law enforcement application, called RODS, for instant review.
The new ELD rule will also put greater responsibility on drivers to certify the accuracy of their logs. Presently, electronic logs must be connected to the vehicle's engine data to be compliant with the 395.15 specification. As such, they are not designed to automatically capture changes to duty status unless those changes are tied to engine information, Chianelli adds.
With the ELD rule, drivers can accept or reject any logbook corrections made by fleet managers and edit certain portions of their logbooks, such as the time they switched from off-duty to on-duty status. They will also be able to specify use of a vehicle for personal conveyance, yard moves and other instances where an ELD detects "miles without hours," she says.
In light of these and other changes, the type of ELD platform you choose — mobile, hard mounted or a combination of the two — becomes more important. Information will not only be captured from the engine but from the driver, perhaps while outside the vehicle.
Suppose a driver works for another company during their off hours or on weekends. How do you capture that on-duty time to ensure your operations stay compliant?
"There are a lot of open questions around duty time," she says.
Mobile platforms might have the advantage in this regard. Using a smartphone or tablet, a driver could update his logs while outside the vehicle.
"When you've got a smartphone device, it is easy for a driver to log his time when working for another provider," says Kelly Frey, vice president of products for Telogis. "That is an opportunity to be more compliant and easier for the driver to stay compliant."
In general, mobile platforms being used for electronic logs today come in three varieties:
Computer-assisted logging. Drivers can download apps to personal Apple or Android devices. BigRoad, KeepTrucking and others offer apps to drivers for free. Fleets subscribe to these services to access and manage driver logs from an online portal. Drivers and fleets that use these apps will need to upgrade to one of the options below to be ELD compliant.
Recording and telematics devices. A low-cost recording device stays connected to the vehicle and communicates with mobile apps on smartphones and tablets. These products are already 395.15 compliant and can be updated to the new ELD standard without additional hardware.
Companies that supply these products include Omnitracs (XRS), uDrove, J.J. Keller, Rand McNally, Telogis, BigRoad, VDO RoadLog, Geotab and more.
The VDO RoadLog is unique in the fact that it is a stand-alone ELD: it does not require a wireless connection with monthly fees or contracts. It can also automatically print out the driver's log at the push of a button using an internal thermal printer.
VDO RoadLog combines GPS data with input from the vehicle to create a digital log the driver can either download by using a USB drive or print out, as needed. Optionally, drivers can transmit their log data to their fleet using a mobile app on a smartphone or tablet that communicates with the VDO RoadLog device via Wi-Fi. The company is planning to add cellular communications as an option in the near future.
Most products in this category are designed for fleets that want the additional telematics features.
"One of the unique things about uDrove is we do not require any driver interaction for the tracking part of our system," says Nick Reed, general manager of uDrove. "If a driver forgets his phone or tablet or forgets to log in our system it still tracks location and drive time."
Industrial-grade mobility. Companies that supply these products combine robust telematics devices with a durable hard-mount and/or mobile displays. Zonar, for instance, offers an industrial-grade Android tablet display called 2020 and an onboard computer to run applications that include electronic logging, vehicle inspection, navigation and driver workflow messaging. PeopleNet will also be offering a rugged Android tablet as an option.
Click on another criteria to continue:
Electronic logs may not deliver enough savings to justify the cost of hardware and software. What other options should you consider to increase the return on investment?
Fleet managers may need more than applications to capture logbook data. Some products include robust compliance management tools.
A distinct feature offered by some platforms is to have electronic logging functions embedded within the driver workflow. This gives fleets visibility to more than duty-status information.
When choosing an ELD, it is important to consider future technology you will want to include in the vehicle to improve safety and compliance.