Fleets that have already implemented electronic logs on a voluntary basis may be saving time and money, but it may not be enough to justify the cost of hardware and software if this is the only mobile application they use.
For many fleets, the best option for ELDs is the platform that gives the best return on investment from applications that boost productivity, fuel savings, safety, and compliance.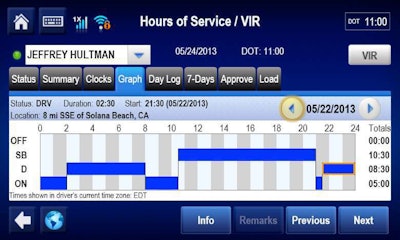 In some cases, products that offer the easiest migration path for drivers are the best fit. Fleets that use the owner-operator business model, for instance, are finding success with a "bring your own device" (BYOD) strategy using computer assisted logs or low-cost telematics.
For fleets that use company assets and drivers, an industrial-grade mobile platform helps eliminate concerns about power supply, drivers losing devices, data storage and other risks associated with the BYOD strategy.
Household goods mover Atlas Van Lines, for instance, recently deployed Omnitracs' Mobile Computing Platform 50 (MCP50) and suite of applications across its fleet to help meet its safety and regulatory compliance goals. The hours-of-service application on the MCP 50 allows drivers to switch between multiple operating authorities and this feature was among the critical factors contributing to Atlas' selection of Omnitracs over other ELD providers.
Vnomics offers electronic logs on a hard-mounted display. Its real-time fuel coaching application offers a quick payback, says Mari McGowan, director of market development. When a driver exceeds 1,500 RPM, for example, the in-dab display emits a beep that sounds similar to grinding gears, prompting the driver to shift and bring down his RPMs.
When drivers come to a stop, a "shift efficiency" score appears on the display along with a color-coded, vertical bar chart that shows the percentage of time drivers shifted in the "good," "acceptable," and "poor" range.
In general, industrial-grade platforms with hard-mount or mobile displays are for fleets looking for much more than compliance applications.
"Transportation operations are way more complicated than electronic logs and for vendors it will continue to be about the value proposition that your product and company provides," says Eric Witty, vice president of product management for Cadec Global. "Many buyers will look for additional opportunities to reduce cost and improve efficiency and safety and will look to vendors to integrate features and technology that can provide this value."
Click on another criteria to continue:
The new ELD rule will put greater responsibility on drivers to certify the accuracy of their logs. What products will best fulfill the need to capture duty-status information from drivers, inside and outside the vehicle?
Fleet managers may need more than applications to capture logbook data. Some products include robust compliance management tools.
A distinct feature offered by some platforms is to have electronic logging functions embedded within the driver workflow. This gives fleets visibility to more than duty-status information.
When choosing an ELD, it is important to consider future technology you will want to include in the vehicle to improve safety and compliance.