A distinct feature offered by some mobile platforms is having the electronic logging functions embedded within the driver workflow process. Compared to a stand-alone e-log application, this integrated workflow presents the driver with tasks to complete as they go through their workday.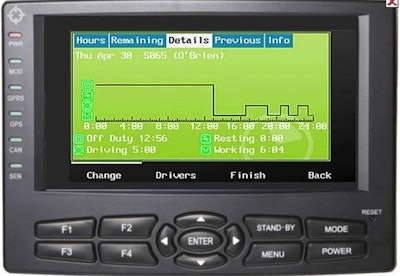 "Tying (electronic logs) in to the driver workflow does make all the difference," says Keith O'Brien, vice president of product management for CarrierWeb.
Most fleets that use the CarrierWeb platform have it integrated with their transportation management system in the back office. When drivers log into the Mobile Data Terminal (MDT) in the cab, the interface prompts them to enter information that is pertinent to their duty status at that moment and during other activities throughout the day, he says.
The integrated workflow identifies and documents the time spent on activities during drivers' "on-duty, non-driving" time and other duty statuses.
"Because we have the ability to create many statuses, we can associate each status with a category," he says. As an example, fleets can know how much of a driver's on-duty time is spent making pickups and deliveries, washing the tractor, or fueling. The MDT sends updates to the cloud within seconds for instant visibility of activities.
As part of its integrated workflow, Telogis presents hours-of-service information to drivers through its navigation interface.
"We are allowing them to keep their eyes on road while giving them alerts and notifications if they need to stop for a break or are approaching their drive limit," Frey says. "We present that information in the least intrusive way possible."
Click on another criteria to continue:
The new ELD rule will put greater responsibility on drivers to certify the accuracy of their logs. What products will best fulfill the need to capture duty-status information from drivers, inside and outside the vehicle?
Electronic logs may not deliver enough savings to justify the cost of hardware and software. What other options should you consider to increase the return on investment?
Fleet managers may need more than applications to capture logbook data. Some products include robust compliance management tools.
When choosing an ELD, it is important to consider future technology you will want to include in the vehicle to improve safety and compliance.