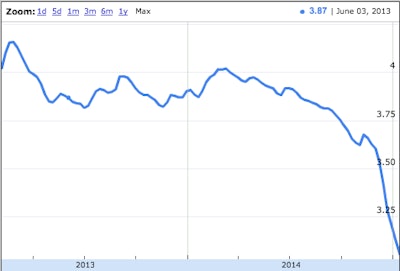 The national average price for a gallon of on-highway diesel fell 3.5 cents in the week ended Feb. 2 to $2.831, according to the Department of Energy's weekly fuel report.
That's the lowest the U.S. average has been since the week ended Nov. 9, 2009. The national average price has now fallen 12 consecutive weeks and 29 out of the last 31 weeks. Last week's price was also $1.12 lower than the same week a year ago.
This week's price decline, however, slowed some from those in recent weeks — January alone saw the nation's diesel average fall nearly 40 cents.
All regions in the U.S. also saw price dips, save for the New England region, which saw a 1-cent increase.
The California region led all price drops with a 6.3-cent decline, followed by the West Coast's 5.6-cent drop.
The Central Atlantic region had the country's most expensive diesel this week, $3.041, followed by the New England region's $3.028 and California's $3.027.
The Midwest had the U.S.' cheapest diesel, $2.765, followed by the Gulf Coast's $2.769.