Rates on the spot market are still in the midst of a small slip, but other indicators this week trend well for trucking companies: More NAFTA freight and soaring equipment orders:
[gttable cols=""]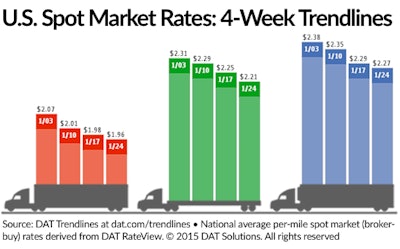 Rates slide: Spot market rates to this point in 2015 have fallen each week, according to DAT Solutions' weekly update. More capacity, falling fuel prices and declining load volume have all contributed to to the recent rate downturn. As the chart above notes, van and reefer rates in the week ended Jan. 24 fell 2 cents, while van rates fell 4. Also, the number of loads on DAT's loadboards fell 19 percent in the same week while truck availability increased 15 percent.
[/gttable]
[gttable cols=""]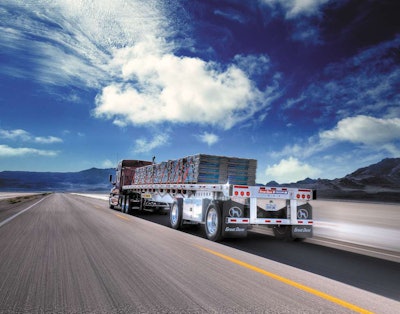 Trailer orders hot: The number of net trailer orders in 2014 was the second highest on record, according to ACT Research, who last week unveiled its December and 2014 order numbers. Trailer orders in December totaled 44,000, ACT says, pushing 2014's total net orders to 359,000 — up 55 percent from 2013.
"The industry order board has reached a level not seen in almost 20 years," said Frank Maly, Director of CV Transportation Analysis and Research at ACT. "The last four months of 2014 all rank in the top 10 net order months in history. As we look forward into 2015, strong orders, long backlogs, solid freight volumes, a healthy economic outlook, an old fleet, and rising trucker profitability have combined to lay the groundwork for the best trailer market since the late 1990s."[/gttable]
[gttable cols=""]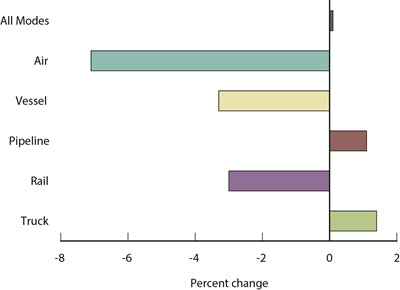 Trucking continues to drive NAFTA increases: The amount of freight carried between the U.S. and its North American Free Trade Agreement partners Canada and Mexico grew by just one-tenth of a percent in November 2014 compared to the same month in 2013. However, trucks carried 1.4 percent more freight in November 2014 than November 2013 and was one of only two modes to see a year to year increase.
U.S.-NAFTA trade totaled $96.3 billion in the month, with trucks carrying $58.567 billion of it. Trucking's $787 million year-to-year growth also offset losses in other modes.[/gttable]