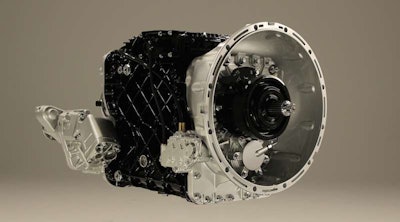 Mack Trucks this week introduced a new version of its Mack mDrive automated-manual transmission. The mDrive HD will be standard equipment on the Mack Granite starting in March, the company announced at the World of Concrete show in Las Vegas Feb. 3.
The mDrive HD is a beefier version of the standard mDrive and is designed to work with Mack's MP7 and MP8 engines. The 12-speed transmission has an automated clutch, and no clutch pedal is required.
It will be available in overdrive and direct drive. The transmission continuously monitors changes in grade, vehicle speed, throttle position, acceleration, torque demand and gross vehicle weight and chooses the best gear based on those conditions.
The mDrive has been standard equipment in the Mack Pinnacle since October 2014.