KeepTruckin announced the addition of GPS tracking to its electronic logbook application for the Android and Apple platforms. The app is a free download for drivers on their personal devices. Fleets can access drivers' logbook data for free through the KeepTruckin online dashboard.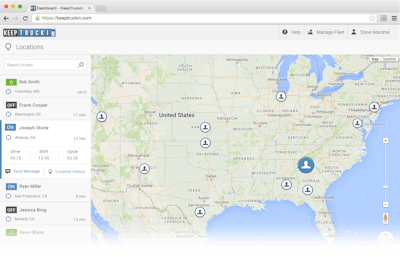 The app collects drivers' GPS locations at regular intervals. To protect driver privacy, Keeptruckin only shows location data when a driver's duty status is set to driving or on duty.
Fleets can use the tracking update to monitor detention time, capture state miles for IFTA reporting and for load planning, says Shoaib Makani, founder and chief executive of KeepTruckin. The dashboard shows drivers' current locations on an interactive map. An individual driver's breadcrumb location history can also be viewed for any prior day. A manager can replay the driver's day by dragging a time slider.
About 2,000 fleets currently use the logging application. They range in size from single owner operators to 250 trucks.
Keeptruckin launched the first version of its app about one year ago. The company was founded by Makani with funding from Google's venture capital arm.
Keeptruckin began offering the app for free in anticipation of the electronic logging devices (ELDs) mandate; it is betting that customers will choose to upgrade to its new ELD option when it becomes available as soon as this month. The company is building a telematics device that will synchronize its app with engine data. The app will also interface with third-party telematics devices, he says.
The company plans to offer the ELD option for no up-front costs with a subscription starting at $20 per month that includes electronic logs, vehicle tracking and IFTA reporting. A $30 subscription will include driver performance monitoring and vehicle diagnostics, he says.
Keeptrucking will also have an option for fleets to rent a ruggedized Android tablet for the display device.