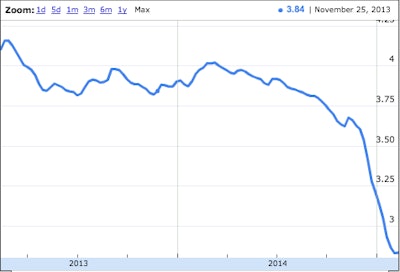 The U.S.' at-pump diesel price rose for the first time since November in the week ended Feb. 9, snapping a 12-week string of price drops.
The national average price for a gallon of on-highway diesel rose four-tenths of a cent in the most recent week to $2.835, according to the Department of Energy's weekly fuel report.
The price is now directly in line with what the DOE projects the price of diesel will average in 2015.
The increase is also just the third week-to-week increase since early July 2014 — a streak that saw the country's diesel price hit its lowest point since November 2009.
The most recent week's price, however, was still down $1.14 from the same week last year.
Regionally, price changes were split. The Gulf Coast, Rocky Mountains, the Lower Atlantic and the East Coast all saw their average prices decline fractions of a penny.
The regions that rose, however, saw larger changes. The West Coast, for instance, saw a 3.8-cent increase, while the New England region's average rose 1.1 cents.