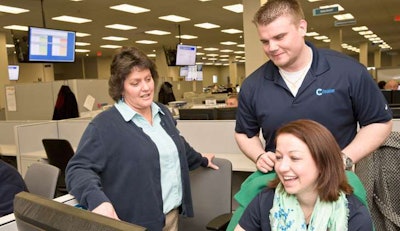 About 4½ years ago, Meek changed the hiring standards in Celadon's customer service operations. Rather than hiring people with experience in truckload, Celadon would hire college graduates with no experience in trucking and train them in the Celadon way.
This young educated workforce came with experience in technology and new ideas on how to apply it.
"With that technology savvy comes the push for (information technology), and that's the best thing that could ever happen because it's something that they want and they have knowledge of to push us to go down those paths," says Mike Gabbei, vice president and chief information officer.
At this same time, Celadon took away the order entry process from CSRs. This removed any emotional bias for deciding what loads to book from customers. This also stirred internal debate, as customers no longer had a single point of contact within Celadon.
"There was a lot of bitterness for making the change," says Jonathan Doss, who began his career in order entry and now is a director of customer service. "A lot of CSRs did not feel it was necessary to write down information and hand off a piece of paper to someone else."
During this transition, the IT department created new software applications for order entry to make decisions. "They don't know the business and are not dealing with the customer," Gabbei says. "We had to arm them with tools to make educated decisions."
Celadon started with a load commitment system, followed by a scoring system called Order Entry 2 (OE2) in 2013. The OE2 system has evolved with guidance from front-line users.
From January 2014 to 2015, Celadon credited OE2 for an increase in delivered weekly miles by 10 percent, an increase in rates by six percent and a decrease in its operating ratio by about two percent. (For an explanation of how OE2 scores each load, see "Scoring customers.")
Celadon organized the department into commodity sectors in 2012. Howard was hired as a customer service manager to oversee the order entry team.
One issue Howard encountered in her new role was that people were not staying around long enough to become specialized in the commodity sectors. Order entry was considered a low-value job, and turnover was high. The people who excelled at it were either looking for jobs outside of Celadon or moving to more "high-value" departments within the company.
To change this culture, Howard gave everyone a new title. The order entry team became known as Freight Analysts, and their jobs became a carefully measured and strategic process. Howard then was promoted to director of customer service to manage a new set of teams known then as appointment setters and CSRs.
She gave appointment setters a new title – Utilization Analysts – and a new toolset that showed them the value of what they were doing and how it impacted metrics that were important to the company. CSRs also got a new title – Customer Relationship Analysts – along with new visibility and planning tools to gauge the impact they had on fleet profitability.
After these and other changes proved successful, Celadon promoted Howard to vice president of customer service.
Click on one of the buttons below to see the next section about Celadon, or click this link to read the first article in the series.