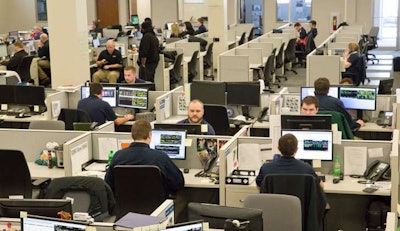 As the economy started showing signs of life in 2009, Celadon began to lay a foundation for being more selective of customers and freight. Will and Meek saw that trends in freight volumes and capacity constraints – such as driver demographics, regulations and equipment costs – were headed in that direction.
Like many fleets, Celadon had customer service representatives (CSRs) that managed all post-sale communications with customers. Their duties involved booking loads, entering orders, setting appointments and servicing loads from pickup to delivery.
"It was a lot to manage," says Marie Leapley, who joined Celadon five years ago as a CSR. Back then, the company had 60 CSRs and divided them into two groups of 30. Each group was led by a director of customer service.
"There was no hierarchy and no rhyme or reason," Meek says. "We just split it up."
CSRs were given general guidelines for booking loads based on capacity commitments. The freight selection process was memorized and written on Post-it notes, Leapley says. This always caused problems when CSRs were absent, as knowledge of their customers went with them.
Keeping the network balanced also was a constant struggle. Every morning, directors passed out responsibilities to CSRs for where to solicit freight.
If the company had 15 extra trucks in the Dallas area, CSRs would get on the phone and find loads to move those trucks out of that market. The profitability of those moves was an afterthought and created another problem: landing excess capacity into markets, again.
Click on one of the buttons below to see the next section about Celadon, or click this link to read the first article in the series.