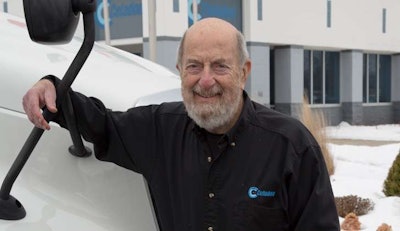 In 1985, Steve Russell, from Brooklyn, invested $30,000 to found a trucking company after a chance encounter at a toll booth.
As a mathematician, Russell always carried exact change to travel as efficiently as possible. This day was different; he had to stop and wait for change and spotted a former colleague in the next lane. The colleague mentioned an opportunity to transport automotive freight into the United States from Mexico. The rest, as they say, is history.
Russell got the name for his company from a 1973 study by the University of California, Berkeley, which found celadon to be the prettiest-sounding word in all modern languages. It has a universal meaning.
"I picked that and then looked it up in the dictionary," says Russell, the company's chairman. "It means ancient Chinese porcelain."
---
CELADON TIMELINE
Click the arrows to move between events in the timeline.
---
Celadon grew quickly with Chrysler as its main customer, but its profits were lagging. From 1985 to 2001, the company had negative retained earnings.
Paul Will, president and chief executive officer, joined Celadon in 1993 as a controller, the year before Celadon became a publicly traded entity. In 2001, Celadon began to diversify its business by purchasing distressed companies, but only because it lacked the funds to go after good ones, Will says.
By 2004, the company had revenues of $300 million, but profitability remained haphazard at best.
"I felt at the time that we accidentally made money," says Eric Meek, who left an accounting firm to join Celadon that year as a financial analyst. Today, Meek is executive vice president and chief operating officer.
Celadon continued to diversify and strengthen its bottom line, but then came the Great Recession. After this experience, executives decided to get into more stable freight markets such as food and beverage and cattle hauling.
"Our whole focus is how do we make sure that we are making profit margins today in a great economy, but more importantly, how do we make sure this company is ready for the future," Meek says. "I think the next downturn – I don't want one – but when it happens, we will be in a much better position."
Today, Celadon operates a variety of business lines that include temperature control, intermodal, flatbed, dry van and dry bulk. It also offers over-the-road, local, regional, dedicated and expedited operations with a coverage area that spans the United States, Mexico and Canada.
Celadon's market value today is close to $600 million with revenues this year expected to reach $1 billion from 4,000 trucks in service.
"I placed a good bet," Russell says.
Click on one of the buttons below to see the next section about Celadon, or click this link to read the first article in the series.