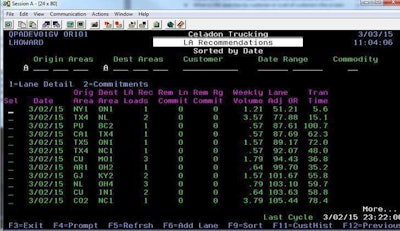 From 2013 onward, Celadon continued to take big strides in customer service. It created a Customer Experience group to provide red-carpet treatment to new customers and to existing customers in need of extra attention.
The Customer Experience team bridges the gap between multiple aspects of Celadon's business. The sales and pricing departments interact with this group to onboard new customers. The group then will transition customer accounts to CRAs and other analysts in a commodity sector.
In November 2013, Celadon implemented a new software system called Load Analyzer that gave analysts visibility to all freight in its entire network up to eight days in advance. The software, from Manhattan Associates, gives recommendations for what customers and loads to solicit in order to move trucks into areas where they are needed to satisfy customer lane commitments.
The tool shows CRAs and other users the operating ratios of loads along with profitability and service metrics to prioritize their calls. Everyone in customer service, no matter their title, is expected to solicit five loads each day and 25 a week, Howard says.
Celadon also created a dedicated team of Freight Analysts called Market Makers whose primary responsibility is to solicit loads three or four days out. With the help of this advance planning group, Celadon has been able to reduce layovers – defined by the number of drivers who have hours to run prior to 8 p.m. but are not assigned loads.
Two years ago, Celadon had 300 layovers per day on average. Today it has three, Howard says. Other results from using Load Analyzer, measured from January 2014 to 2015, include:
A 33 percent decrease in broker loads by replacing them with direct customer loads; and
9.6 million miles and 10,306 loads won through solicitation.
In the next few months, Celadon plans to create income statements for groups at the commodity level, Meek says. "We've always done a great job getting focused on profitability," he says. "This is one more tool to get them excited."
Click on one of the buttons below to see the next section about Celadon, or click this link to read the first article in the series.