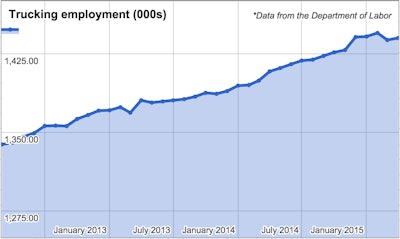 The for-hire trucking industry added 1,900 jobs in April on a seasonally adjusted basis, according to the Department of Labor's monthly employment report, released May 8, making up some ground lost in March.
The DOL, however, did also downwardly revise March's already poor employment showing for trucking, now reporting a loss of 7,300 jobs in that month.
On the whole, however, trucking employment continues a now years-long upward trend, now back to pre-recession levels and nearing an all-time high.
The U.S. economy as a whole in April gained 223,000 jobs, per the DOL report, pushing the unemployment rate to a 7-year low of 5.4 percent.
Total employment in the for-hire trucking industry now totals 1.4402 million, according to the DOL — a 2.27 percent increase (31,900 jobs) from last April's 1.4083 million.
It's also up 207,000 jobs (16.8 percent) from the most recent bottom in March 2010 and less than a percent (13,200 jobs) shy of the most recent peak in January 2007.
Employment in the broader transportation and warehousing sector grew by 15,200 jobs in the month. Manufacturing added 1,000 jobs in the month and construction added 45,000 jobs.