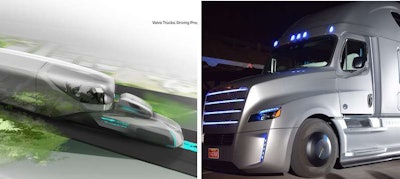 As OEMs and suppliers continue a rapid pace of new technology adoption into tractors, these truly are exciting times in the trucking industry.
Perhaps the excitement was never more palpable than last month, when Daimler Trucks threw a press event for a group of international journalists and industry analysts and introduced the Freightliner Inspiration autonomous truck. Daimler touted the truck's major advantages, including improved safety, lower driver fatigue and improved fuel economy.
Perhaps as big of a news story as the truck itself is the fact that it now can operate legally in the state of Nevada, thanks to the Silver State's issuance of the first-ever commercial autonomous vehicle license. The future of trucking clearly is coming quicker than most in the industry ever anticipated.
But even as this huge hurdle in truck technology has been cleared, plenty of unsolved issues remain. An autonomous truck requires clearly painted lane and road markings in order to operate in autonomous mode. Limitations in forward collision mitigation cameras can't discern certain objects; while they may detect traffic ahead, nonmetallic objects (a deer carcass, for example) remain invisible.
Then there is the subject of the driver. Despite the misconceptions from many in the driver community after Daimler's announcement that autonomous trucks would eliminate jobs, these new vehicles in fact still require a driver. Will fleets that eventually deploy autonomous trucks let less-experienced drivers operate a tractor that certainly will be priced at a premium above conventional tractors? After all, when a critical situation occurs and the driver suddenly has to reclaim control of the truck, don't you want your best driver behind that wheel to prevent an accident?
A week after Daimler's announcement, Volvo Trucks North America took time during its Volvo Trucks Business Symposium to explain its vision for new truck technology that takes a decidedly different approach: platooning. Volvo believes so strongly in this technology that its Volvo Group Venture Capital subsidiary invested in Peloton Technology, a company currently developing a vehicle-to-vehicle technology relying on collision mitigation and active cruise control systems.
Platooning would allow two or more tractor-trailers to link up on the interstate. The technology potentially would allow for platoon-capable tractors from separate trucking companies to link up on the road.
The major benefit to platooning, according to Volvo, is fuel efficiency, as the two tractor-trailers traveling with only a small gap between them will decrease drag off the trailer of the first vehicle while improving draft for the second vehicle. The North American Council for Freight Efficiency recently published the results of an industry standard SAE Type II test, which showed a combined 14 percent reduction in fuel consumption – 4 percent for the front vehicle and 10 percent for the rear one.
"Connectivity and new technology will help to avoid accidents in a far greater way going forward," said Göran Nyberg, Volvo Trucks North America's president. "Connectivity will be the next game-changer for the industry. Not in five or 10 years, but two to three years."
Susan Alt, senior vice president of public affairs for Volvo Group North America, added that widespread adoption of autonomous commercial vehicles might not be a reality during our lifetime.
"Platooning will probably come to market first," said Alt. "The technology exists today – we just need rules and regulations to allow it."
Major hurdles to platooning include working with states with strict limits on following distances to allow for the convoy to operate on the road without the rear vehicle being pulled over for tailgating. And if two separate trucking companies are linked in a platoon and an accident occurs, which company is liable for damages?
These are just some of the many issues that will need to be addressed before autonomous or platooning trucks become an everyday occurrence. But when those questions ultimately are answered and public is more receptive to sharing the road with such trucks, trucking will look vastly different than it does today.