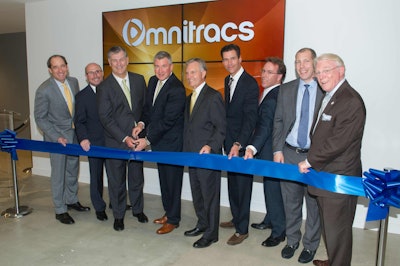 Omnitracs, a global pioneer of fleet management systems to transportation and logistics companies, celebrated the official opening of its new headquarters in Dallas with an open house and ribbon cutting ceremony on Monday, May 25.
At the KPMG building in the heart of downtown Dallas, local dignitaries, community members, and Omnitracs employees and partners gathered as newly reelected Dallas Mayor Mike Rawlings welcomed Omnitracs to the City of Dallas.
Following the initial announcement of Omnitracs' intent to relocate to Dallas in July 2014, the company worked collaboratively with the Office of the Mayor, District 14 City Councilman Philip T. Kingston, and local officials, to transition the business to downtown Dallas.
Omnitracs' headquarters features a sleek, modern open floor-plan designed to inspire collaboration, promote cross-functional project management and eliminate the organizational silos present within many companies today. While at the event, guests had the opportunity to tour the five floors of office space, meet with Omnitracs executives and enjoy refreshments and musical entertainment by harpist Cindy Horstman.
"It is my pleasure to officially welcome Omnitracs to Dallas," Mayor Rawlings said. "We're honored that Omnitracs selected our city to establish roots and further expand its business. That decision is a testament to the economic success we're seeing in Downtown. I'm confident that Dallas is the right city for Omnitracs to continue to grow."
Omnitracs' move brings more than 450 new jobs to Dallas and represents a $10M capital investment. With the company's relocation, it is capitalizing on the region's substantial transportation infrastructure and logistics expertise. Serving more than 30,000 fleets across the U.S., Canada and Latin America, the Dallas location situates Omnitracs centrally to many of its fleet customers and partners, enabling ease of access to ensure it continues to deliver world-class customer service and support.
"The Omnitracs executive team, our employees, and I are thrilled to call Dallas our new home," said John Graham, CEO of Omnitracs. "Since the early stages of our conversations with the Texas Economic Development Council, we were convinced of the merits of establishing our new corporate headquarters in this thriving business-friendly community. We were attracted to this great city because of its top technical and business talent, the proximity and ease of access to many of our customers across the country, and the pivotal role Dallas plays as a hub for much of our nation's transportation infrastructure."