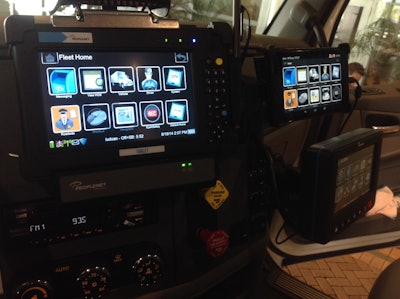 Long-time competitors PeopleNet and Cadec met in the fall of 2014 to talk about an acquisition. Not long ago, PeopleNet was in a similar situation when its private equity owners were looking to sell the company at the end of the investment cycle.
PeopleNet found a buyer in Trimble and closed the deal in August, 2011. When evaluating Cadec, Brian McLaughlin, president of PeopleNet, saw a good, well-managed company that was "stuck a little in terms of needing that next lever of growth," he says.
At the time of this first meeting PeopleNet already had a number of high-priority projects in play like adding video capture to its fleet mobility platform and working on new OEM partnerships. After these projects settled down, PeopleNet was in a much better position to move forward with the acquisition, he says.
Talks resumed about three months ago and PeopleNet officially acquired Cadec on May 26, 2015. Cadec will operate as a PeopleNet business and be reported in the Mobile Solutions segment of Trimble. Just as it did before, Cadec will focus on a specific, although very large, segment of the transportation industry: foodservice and private fleets.
Cadec offers a cloud-based fleet management system called PowerVue that is tailored to the key requirements of this market. PeopleNet also has customers in this space, but whenever it went head to head with Cadec, the dashboard tool kits, driver performance reporting and food service workflows of PowerVue were always "beyond what anybody else has," McLaughlin says. "Cadec has better capabilities, but I would not have admitted that a year ago."
What PeopleNet does have is a superior mobile toolkit. Its Mobile Gateway enables its fleet management software to run on various devices including Android. Going forward, the strategy is to leverage PeopleNet's Mobile Gateway and hardware with Cadec's software to expand in this segment of the fleet market.
"Our focus is to continue to support and develop PowerVue," McLaughlin says. "We will also take the best of Cadec's toolkits and work on building the next killer set of apps for foodservice and private fleets. This will give us an accelerated approach to building out these capabilities. We've got a lot to choose from."
Cadec Global, of Manchester, New Hampshire, has a long history in fleet management technology. Founded in 1976, it was the first onboard computing and mobile communications provider to develop certified automated driver logs with the Federal Motor Carrier Safety Administration, the first to interface with engine control modules and GPS, and the first to have a graphical touchscreen.
Cadec's current chief customer officer Angela Shue will transition to a new role as general manager of Cadec, working with PeopleNet's leadership team. Shue also will be responsible for working with the combined organization to develop new products for the foodservice and private fleet industries.
Together, the PeopleNet and Cadec organization will employ nearly 500 professionals. Cadec will continue to operate out of its Manchester, New Hampshire office.