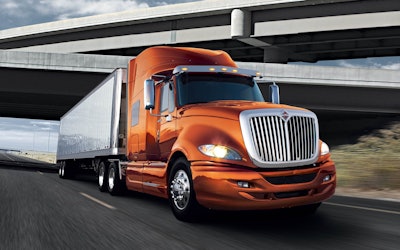 Navistar International June 4 reported a net loss of $64 million for 2015's second quarter, up from a net loss of $297 million from last year's second quarter.
The company reported revenue in the quarter of $2.7 billion and EBITDA of $85 million — up from a loss of $119 million in 2014's second quarter.
Navistar attributes the year-over-year gains to increasing truck sales, including a 9 percent increase in Class 8 trucks.
The truck segment as a whole, however, reported a loss of $51 million, up from the $129 million loss in last year's second quarter. The company's truck segment in the first half of the 2015 fiscal year has seen a loss of $69 million, well up from last year's $337 million loss in the same time period.
Navistar says the truck segment's gains come from better truck sales and from lower warranty payouts. The company's parts segment and financial services segments both saw profits.
Navistar in the first quarter of the 2015 fiscal year reported a loss of $42 million, and the company so far is on track to cut its 2014 net loss of $619 million. The company has slowly been working its way back toward positive income since switching away from its EGR-only approach to meeting emissions standards and to SCR systems in 2012.
It reported a $3 billion net loss in 2012 and about a $1 billion loss in 2013.