A look at a few trucking-related economic indicators from the most recent week:
[gttable cols=""]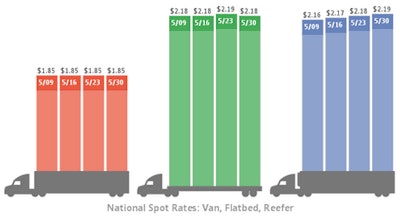 Roadcheck could push rates up, at least temporarily: DAT Solutions this week said the combination of some carriers and owner-operators taking trucks off the road during CVSA's annual 72-hour Roadcheck inspection blitz this week could restrict capacity just enough to push rates up this week. Roadcheck, along with a potential post-Memorial Day jump in loads, could cause rates to jump a few percentage points. Last year during Roadcheck week, DAT says, dry van rates jumped 7 percent, flatbed rose 8 and reefer climbed 6 cents.
DAT also reported its spot market rate data for the week ended May 30, showing dry van holding at $1.85 a mile, flatbed falling a penny to $2.18 and reefer rising a penny to $2.19. Those rate numbers are for posted rate amounts and may not be the final rate figure paid to carriers.[/gttable]
[gttable cols=""]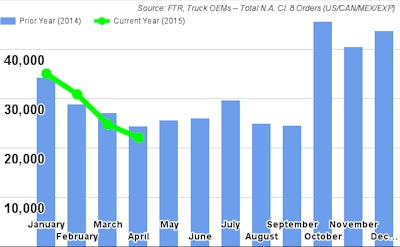 Truck orders tumble: Class 8 truck orders in May fell below the 20,000 threshold for the first time since September 2013, according to preliminary data from FTR, reported this week. All major OEMs reported order drops, FTR says, pointing to the drops in recent months as more of a stabilization in truck orders rather than a sign of a weakening market. Truck orders in late 2014 and early 2015 shot upwards, setting quarterly records and filling OEM backlogs.
"The Class 8 market continues to stabilize, and the overall market remains healthy at this point," says Don Ake, FTR vice president of commercial vehicles. "At the current rate, we expect orders to bottom out in July in the 16,000 unit range, which will be sufficient to maintain production levels this year. However, some individual OEMs may need orders to improve to maintain their build rates."[/gttable]
[gttable cols=""]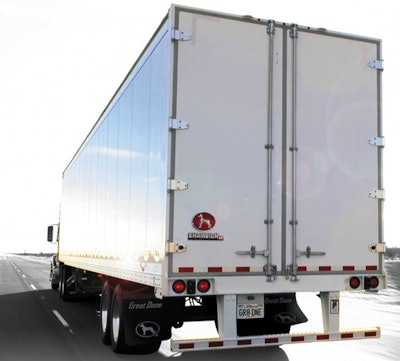 Trailer orders, too: The number of trailer orders in April fell 30 percent from last April and 19 percent from March numbers, FTR reported last week. "Order activity has cooled off in large part because many major fleets placed their orders in 2014 to cover 2015 requirements, FTR says in its report, "but [orders] were also impacted by general economic factors."
The trailer order backlog, however, is still healthy, FTR says. Dry van orders led the decline, falling 32 percent, though flatbed orders fell, too. Reefer orders saw an uptick. [/gttable]