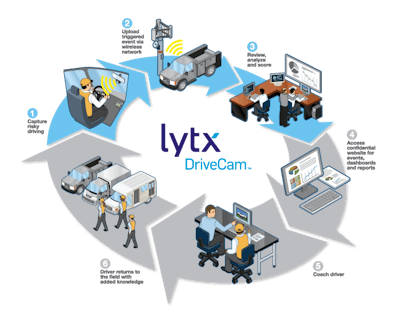 Lytx, a company that provides video-based driver safety technology, announced that Carolina Casualty in the commercial transportation insurance industry is offering the Lytx DriveCam program to its insured clients at significantly subsidized rates, allowing clients to achieve savings of up to 70 percent of the program cost.
"Carolina Casualty has been offering the DriveCam Program to our customers for more than a year. We are excited to partner with Lytx and firmly believe that the DriveCam product can lead to a significant improvement in safe-driving practices and claim outcomes. Our belief is so strong that we provide our customers who take advantage of this technology with a substantial subsidy toward the cost," said John Woods, Carolina Casualty's vice president and chief underwriting officer.
"Our relationship with Carolina Casualty began with successful market experiences together and we believe the offering of the DriveCam Program will enhance both companies' aims of improving safe-driving practices and reducing claims costs," said Eliot Feldstein, senior vice president of strategy and corporate development for Lytx.
The DC Enterprise program is Lytx's most comprehensive safety program enabling operators to manage and coach all enrolled drivers in their fleet. A streamlined DC Protect program is also available and enables operators to coach the drivers who will most benefit from coaching while still protecting all drivers from false claims.
Lytx says the DriveCam Program helps prevent collisions, reduce injuries and save lives by combining video with predictive analytics, real-time driver feedback and coaching for driving behaviors that could lead to collisions. The program includes best practices benchmarking by industry, as well as access to subject matter experts who aid in minimizing financial, operational, legal, and driver risk.