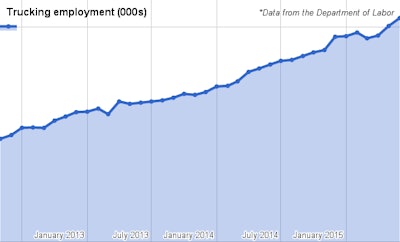 The for-hire trucking industry added 7,400 jobs on a seasonally adjusted basis in June, according to the Department of Labor's monthly employment report, pushing the industry's employment total to a new all-time high and past the previous high mark set in January 2007.
The DOL also upwardly revised May's employment total by about 2,000 jobs.
For-hire trucking employment now totals 1.4585 million on a seasonally adjusted basis.
The U.S. economy as a whole added 223,000 jobs in the month, pushing the country's unemployment level to its lowest point in seven years — 5.3 percent — and the lowest since the 2008-2009 recession.
The trade, transportation and utlities sector, which encompoasses trucking, was one of the main drivers of U.S. job gains, adding 49,000 jobs in the month.
But the service sector as a whole far outpaced the country's goods sectors in employment growth. Construction, for instance, saw no job growth in the month, and manufacturing only gained 4,000. Mining and logging lost 3,000 jobs. But education and health services added 50,000 jobs, professional and business services 64,000, retail 32,000 and financial activities 20,000. The government saw no change in its employment numbers.