ALK Technologies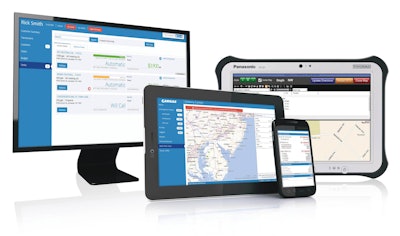 , a Trimble company, announced that Cargas Systems has integrated ALK's suite of mapping and navigation applications with its Cargas Energy software to provide industry-specific route dispatch, navigation and map visualization for fuel delivery and HVAC service companies.
Cargas Systems was looking to provide a specialized system with routing and navigation capabilities that incorporated hazardous materials restrictions for its Route Builder and Real-Time Mobile applications. To do so, Cargas integrated the following ALK products:
ALK Maps with PC*Miler Web Services for high-quality map and route visualization with industry-specific commercial routing and restrictions;
CoPilot Truck for safe, accurate, load-specific navigation; and
RouteSync for sending planned routes in the back office directly to CoPilot Truck in the vehicle for route compliance.
"For years, we sought an integrated solution for cohesive, web-based routing and mapping tools," said Saul Cohen, product specialist for Cargas Systems. "Using MapPoint and Bing Maps separately for those functions did not allow for communication or collaboration between the products. We looked at a number of different products over time but it was obvious that ALK Maps was the best company and solution fit."
Using the dynamic route and asset visualization platform of ALK Maps, Cargas using the integration to developed its delivery routing application, Route Builder, to allow customers access to industry-specific commercial and hazardous materials routing as well as real-time traffic data for enhanced planning. As a web-based platform, ALK Maps allows users to build routes directly within the Cargas software instead of exporting planned routes to a second, locally installed application.
Additionally, Cargas' customized integration includes the ability to re-route stops using drag-and-drop functionality, view delivery and stop information directly on the map and create optimized routes by simply plotting stops.
ALK Maps also provides the map visualization for real-time vehicle and asset tracking, such as viewing driver locations, inventory status and delivery progress. Instant modifications to a route plan due to delays or a newly added stop can be accommodated with ease. A demonstration of the newly developed Route Builder can be viewed at: https://cargasenergy.com/route-builder/.
"With the streamlined approach and functionality of Route Builder, we anticipate time savings of two hours per day in productivity gains for our drivers. Instead of manually sifting through tickets and optimizing their own routes, our drivers are doing what they do best: delivering product," said Steve Fetter, operations manager at Sheller Oil, a Cargas Energy customer.
Additionally, Cargas' Real-Time Mobile applications will now feature CoPilot Truck, providing drivers and technicians truck-specific, turn-by-turn navigation based on their vehicle's dimensions and load. Drivers no longer have to follow a list of static directions.
To further enhance operational productivity, Cargas integrated its software and mobile applications with ALK's RouteSync capability. This allows pre-planned or modified routes from ALK Maps to be sent directly to the driver's mobile device running CoPilot Truck. Creating true route compliance, this link delivers operational consistency between navigation and dispatch, but also reduces non-revenue mileage by minimizing the variance between actual and planned routes.
"Leveraging the same source of commercial data that exists in both ALK Maps and CoPilot Truck is essential when producing applications that streamline business operations and efficiencies," said Dan Popkin, senior vice president, enterprise solutions, ALK Technologies. "Our suite of solutions provides the consistency between planned and driven routes that is vital to business success."