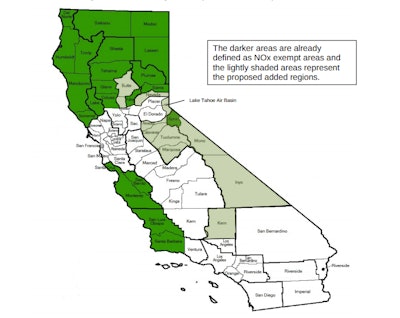 The federal judge overseeing the Owner-Operator Independent Drivers Association's lawsuit challenging California emissions standards has again dismissed most of the owner-driver advocacy group's claims.
U.S. District Judge Morrison England issued the ruling last week. He also transferred the remaining elements of the case to a larger appellate court.
OOIDA's 2013 lawsuit against the California Air Resources Board and some of its members, challenging the Constitutionality of the state's tough emissions regulations, was dismissed in full in November of last year. But a citation issued to one of the owner-operator plaintiffs in the case allowed OOIDA to revive it and bring its claims back to court.
Chief Judge Morrison England, however, again dismissed OOIDA's prior claims, but England allowed the more recent claim made by owner-operator Jack Cody — relating to his citation for non-compliance — to remain. England transferred that portion of the case to the Ninth Circuit Court of Appeals.
OOIDA's prior claims were not dismissed on their merit, but were instead dismissed because, England ruled in October, the case should have originated in appellate court and the U.S. Environmental Protection Agency should have been named in the suit. The EPA, he said, was a "necessary and indispensable party" in the lawsuit.
OOIDA originally brought the suit in December 2013, contending that the requirement that truck owners retrofit 2006 and older model engines with diesel particulate filters is unfairly costly to out-of-state owner-operators and, thus, violated the Commerce Clause of the U.S. Constitution. OOIDA also in the suit challenged CARB's emissions standards' impact on climate change.