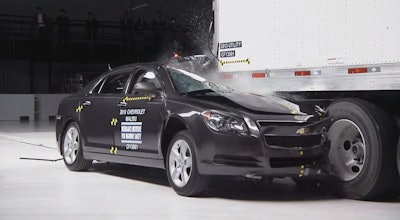 The National Highway Traffic Safety Administration released last week an Advanced Notice of Proposed Rulemaking that will, when final, require single-unit trucks to be equipped with rear impact guards and reflective tape on the rear and sides of the trucks to improve their visibility.
A similar rulemaking that addresses underride guard requirements for trailers should come later this year, the DOT says.
The rule released last week – and set for publication in the coming days — will extend the current regulations for underride guards to single unit trucks.
ANPRMs, as opposed to standard Notices of Proposed Rulemaking, are more requests for comment on estimated costs and benefits of a potential rule rather than publication of a proposed rule.
NHTSA estimates 18 percent of new single unit trucks are equipped with rear impact safety guards that meet the potential regulation. The new regulations would require 59 percent of newly manufactured single-unit trucks to be equipped with rear impact guards above what they're currently produced with, NHTSA estimates.
According to NHTSA, the estimated cost of equipping single-unit trucks with the underride guards is $453 per vehicle, with the cost to the industry of adding the units being $155 million.
NHTSA added that with an additional 210 pounds added to the vehicle, the estimated additional fuel cost over the life of the vehicle could be more than $1,500.
The total cost to the industry, including fuel costs, of requiring single-unit trucks to have underride guards would be $669 million, NHTSA estimates.
NHSTA says in the ANPRM that requiring rear impact guards on single-unit trucks would prevent 85 percent of fatalities in rear-end crashes at or below 35 mph with single-unit trucks when passenger compartment intrusion occurs.
According to the notice, however, only 30 percent of the targeted crashes occur at 35 miles per hour or lower, so NHTSA predicts that the rule will prevent 25 percent of fatalities in rear-end crashes into straight trucks.
From 2010 to 2013, NHTSA estimates there were 34 fatalities annually in which retroreflective tape could have prevented the collision altogether or allowed for lesser impact.
The total consumer cost required for applying this tape to new single-unit trucks is estimated by NHTSA to be approximately $30 million annually. NHTSA also says that, if the tape is as effective on single-unit trucks as it is on trailers, there is a potential to prevent 14 fatalities per year.
The notice will be available for comment for 60 days after it's published in the Federal Register. Once published, those wishing to comment can search Docket No. NHTSA-2015-0070 at www.regulations.gov.