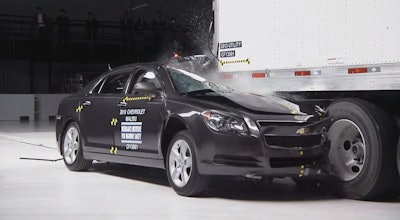 The National Highway Traffic Safety Administration has announced it will reopen the comment period for an Advanced Notice of Proposed Rulemaking that will, if made final, require single-unit trucks to be equipped with rear impact guards and reflective tape on the rear and sides of the trucks to improve their visibility.
The original comment period closed Sept. 21, but the agency decided to reopen it for 30 days. Fifty comments were received in the original comment period.
NHTSA said it "believes that a 30-day period is sufficient and balances the interests of encouraging public participation in the rulemaking process with the desire to not unnecessarily delay key decisions by NHTSA about the rulemaking and attainment of the potential societal benefits associated with the rule."
ANPRMs, as opposed to standard Notices of Proposed Rulemaking, are requests for comment on estimated costs and benefits of a potential rule rather than publication of a proposed rule.
NHTSA estimates 18 percent of new single unit trucks are equipped with rear impact safety guards that meet the potential regulation. The new regulations would require 59 percent of newly manufactured single-unit trucks to be equipped with rear impact guards above what they're currently produced with, NHTSA estimates.
For more on the rule, see CCJ's coverage from when it was originally published.
Click here to comment on the ANPRM. The comment period will be open for 30 days after the rule is published in the Federal Register, which is scheduled to be Tuesday, Oct. 6.