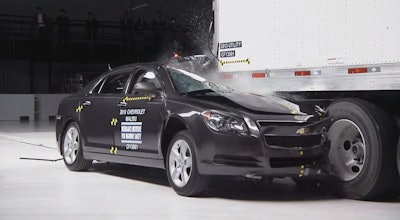 The National Highway Traffic Safety Administration is proposing to require rear impact guards on the back of trailers.
In a Notice of Proposed Rulemaking to be published in the Federal Register Dec. 16, NHTSA proposes to adopt Transport Canada's standard for underride guards, which requires the rear impact guards to provide strength and energy absorption to protect car occupants impacting the back of a trailer up to 35 miles per hour.
NHTSA said in the NPRM that, based on information from the Truck Trailer Manufacturers Association, 93 percent of new trailers sold in the U.S. are already designed to comply with these standards. NHTSA added an estimate that "one life and three serious injuries would be saved annually by requiring all applicable trailers to be equipped" with these underride guards.
The agency estimates the average incremental cost of equipping compliant rear impact guards on a new trailer would be approximately $229 with a weight increase of 49 pounds per trailer. NHTSA also estimated the average incremental material and fuel cost of requiring these guards would be $13 million.
NHTSA proposes a lead time of two years following publication of the final rule to allow guard and trailer manufacturers time to comply.
NHTSA will accept comments on this proposed rulemaking for 60 days after it's published in the Federal Register. To comment, visit www.regulations.gov and search Docket No. NHTSA-2015-0118.
A similar rulemaking came in July that requires single-unit trucks to be equipped with rear impact guards and reflective tape on the rear and sides of the trucks.