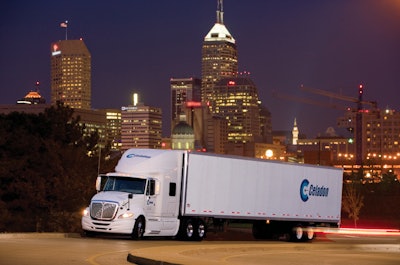 Celadon Trucking (No. 39 in the CCJ Top 250) has agreed to pay $200,000 to settle a 2012 lawsuit brought against the carrier by the U.S. Equal Employment Opportunity Commission over Celadon's pre-job offer medical screening of applicants for truck driver jobs.
Celadon violated federal law by subjecting applicants to medical exams before offering them a job, the EEOC said in its charges against the carrier, as applicants are protected from such screenings by the Americans with Disabilities Act. The medical exams were also inconsistent with DOT protocol.
The $200,000 settlement will be split among 23 former Celadon applicants covered by the EEOC suit.
Federal Judge Sarah Evans Barker issued a ruling on June 30 siding with the EEOC in the case, prompting Celadon's settlement.
The carrier must also, per the EEOC's announcement: "train its management employees on disability discrimination, post a notice of non-discrimination at its worksite, submit annual reports detailing its compliance with the decree and furnish other non-monetary relief, including inviting qualified class members to attend the company's driver orientation program."
Note: A request for comment by Celadon on the settlement has not been answered, but will be added when its response becomes available.