The Department of Transportation's Office of Inspector General recently announced court activity in three trucking-related crime investigations. Here's a summary of what happened with each:
Penn. drug testing firm shut down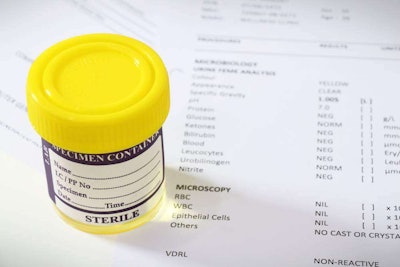 The Department of Transportation issued a Public Interest Exclusion that ordered a Pennsylvania drug testing firm to cease operations.
Elizabeth Pope was ordered to stop all operations with the DOT for five years. This order came down after a debarment order issued by the Federal Motor Carrier Safety Administration. Pope formerly operated Eastgate Laboratory Testing, a FMCSA-regulated drug testing firm.
In December 2014, Pope was sentenced to eight months house arrest and ordered to pay $109,000 in restitution for her conviction related to the falsification of FMCSA-regulated drug and alcohol testing of commercial vehicle operators.
According to the DOT OIG, Eastgate administered drug tests that included pre-employment, random and post-accident testing. The investigation determined that, between 2008 and 2012, Pope used the computer-generated signature of a doctor who had previously served as Eastgate's medical review officer on required FMCSA paperwork.
She admitted to falsifying the documents to give the impression that all tests received necessary oversight and review. The doctor used by Pope stopped working with Eastgate in 2005.
The Public Interest Exclusion, which will expire Aug. 18, 2020, prohibits employers from using Pope or Eastgate during that period. Pope must also inform all parties that were affected by the fraudulent test results.
Eleven indicted after explosion of vacuum cargo tank trailer
Green Compass Environmental Solutions, the Santa Clara Waste Water Company (SCWWC), and nine SCWWC officials/employees were indicted by the Ventura County Superior Court in California.
The charges were conspiracy to dispose of hazardous waste, impeding enforcement, failure to warn of a serious concealed danger, disposal of hazardous waste, handling a hazardous waste with a reckless disregard, withholding information regarding a substantial danger to public safety, filing a false or forge instrument, causing great bodily injury or death by emitting an air contaminant, and dissuading a witness from reporting a crime.
The Ventura County District Attorney's Office and the EPA Criminal Investigation Division began investigating SCWWC after the explosion of a vacuum cargo tank trailer containing hazardous waste in Santa Paula, Calif.
The explosion caused more than 1,000 gallons of chemicals to spill, which resulted in a fire that set off a series of explosions involving hazardous materials. Toxic smoke covered the area around SCWWC, which forced authorities to order mandatory evacuations for everyone within one mile, and shelter-in-place orders for everyone within a three-mile radius, as well as the closure of an elementary school nearby.
Two SCWWC employees and three Santa Paula firefighters who responded to the blast were hurt. The firefighters entered the company without any special protection after being told it was only a sewage explosion. All three firefighters went out on disability leave, and the fire engine was a complete loss, according to the DOT OIG.
SCWWC stored hazardous materials for use in the treatment process in excess of the amounts permitted in their hazardous materials and wastes inventory. SCWWC officials directed the transfer of these hazardous materials offsite to an unsecured truck lot prior to scheduled inspections.
On the morning of the explosion, a Defense Logistics Agency contractor had a scheduled inspection of SCWWC and internal "clean-up" efforts were underway.
Hazardous materials had been sucked from approximately 20 individual unlabeled chemical totes into a vacuum cargo tank trailer when the explosion occurred. SCWWC also disposed of hazardous waste via a wastewater pipeline to the city of Oxnard's sewage plant, and trailers to the Chiquita Canyon Landfill. Neither were approved for the disposal of hazardous waste.
The nine SCWWC executives and managers who were indicted were Douglas Edwards, chairman of the board; William Mitzel, CEO; Charles Mundy, vice president of environmental health safety and facility operations; Dean Poe, vice president of oil and gas sales; Brock Gustin William Baker, operations manager; Marlene Faltemier, human resources manager; David Wirsing, transportation manager; Mark Avila, supervisor; and Kenneth Griffin, shift supervisor.
Montana man sentenced for illegal transportation of hazmat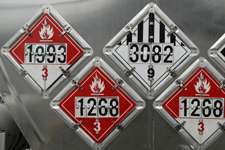 Kelly Steen of Baker, Mont., was sentenced in U.S. District Court related to the illegal transportation of hazardous materials. He was sentenced to three years probation and ordered to pay $2,100 in fines. He pleaded guilty to charges in May 2015.
On Dec. 29, 2012, Steen, a driver for Woody's Trucking, loaded natural gas concentrate, or "drip gas," from a pipeline station that transports products from the Bakken oil fields in Montana to North Dakota.
The drip gas was hauled from Watford City, N.D., to a slop-oil processing/recycling company new Wibaux, Mont.
The bill of lading with the shipment identified the product as "slop oil and water," which isn't hazmat. While Steen was pumping from the truck's front tank into the facility, a fire ignited, injuring three employees of the Custom Carbon Processing plant.
The tanks on the truck burned for eight days until the local fire department could determine that they held drip gas, not slop oil and water. Drip gas is considered hazmat, and the truck was not placarded.
S.C. third-party tester convicted in CDL test scheme
Thomas Lindsey pleaded guilty in U.S. District Court in Greenville, S.C., on Aug. 31 to false statements related to the unauthorized administering of CDL tests.
He was approved by the state of South Carolina as a third-party tester, solely for administering the CDL test to employees of the North Spartanburg Fire Department, however, he administered the CDL test to drivers not employed by the NSFD.
He also didn't require all drivers to perform vehicle pre-trip inspections, basic controls or road tests, and utilized unapproved locations to conduct testing.
Lindsey collected fees from each individual to whom he gave the test and instructed drivers to deliver fraudulently completed skills test forms to various South Carolina DMV locations.